There are almost as many cell-phone subscriptions (6.8 billion) as there are people on this earth (seven billion)—and it took a little more than 20 years for that to happen. In 2013, there were some 96 cell-phone service subscriptions for every 100 people in the world. Shouting is the likely the next-most widespread communications technique: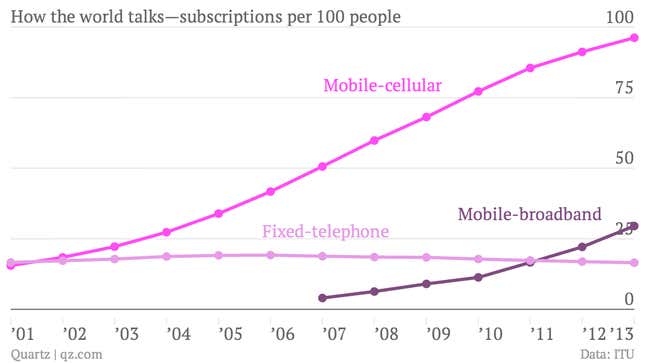 Those figures are the latest from the United Nations' telecommunications agency, which keeps track of the rise and fall of various kinds of communications technology. Of course, 100 subscriptions doesn't mean that everyone has a cell phone, just most people. In wealthier countries, penetration rates exceed 100% because of individuals with multiple subscriptions, making up for the disparity in developing economies. Still, penetration rates are impressive even in poor countries, with an average of 89.4 subscriptions per 100 inhabitants.
Fixed-telephone subscriptions have been falling since cellular phones really took off—world peak fixed-line telephone was in 2005—and now the rise of mobile broadband subscriptions for smartphones is putting the legacy technology under further pressure. There are a few notable exceptions, mostly small, rich states—Monaco has 121 land-line subscriptions per 100 inhabitants, for example. For some historical perspective, here's the United States' love of Alexander Graham Bell's most famous product (sadly, world aggregate data only goes back to 2001):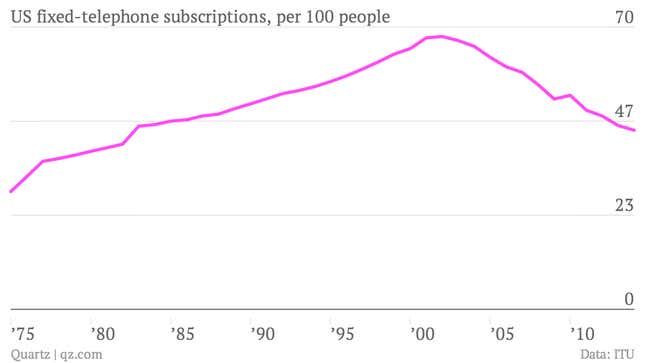 It's easy to see why cell phone growth has been so fast: You don't need a home to have one, and you don't need a network that touches every building. It's easier to plop a cell phone tower in a neighborhood than plug in every single building.
Today, almost everywhere has more mobile phone penetration than land-lines: The continent of Africa has dismal fixed-line penetration of 1.4 subscriptions per 100 people, but 63.5 cell subscriptions.