Later this week, the euro zone will release its first estimate of inflation for February. Low and falling inflation is a big worry for policymakers, who hope to avoid the euro zone slipping into a Japanese-style deflationary spiral. The country-level inflation details that have been trickling out in recent weeks are not encouraging.
Take France. It reported annual inflation of 0.7% last week, but so-called core inflation, which strips out goods with volatile prices, gained only 0.1% in the month of January.
In the details, the most eye-catching result was the 15.4% month-on-month plunge in clothing prices. This isn't a complete surprise, given that it came during one of the twice-yearly sales periods in France's tightly regulated retail sector. But clothing prices were also down 4% year-over-year, making the latest winter sales much more aggressive than in previous years.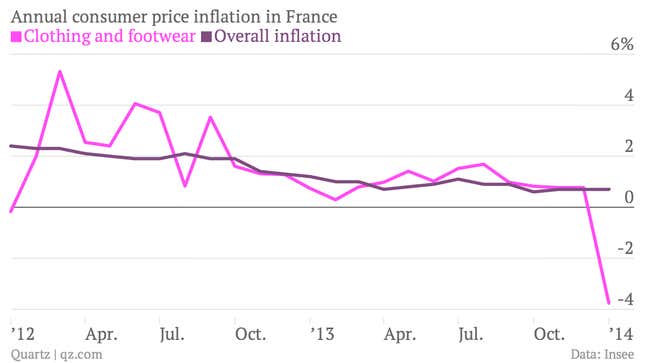 Tepid Christmas trading, which continued into the start of sales season, is forcing French fashion retailers into desperate measures. Prices plunged across the board last month, with almost every major category recording the biggest annual discounts seen in years: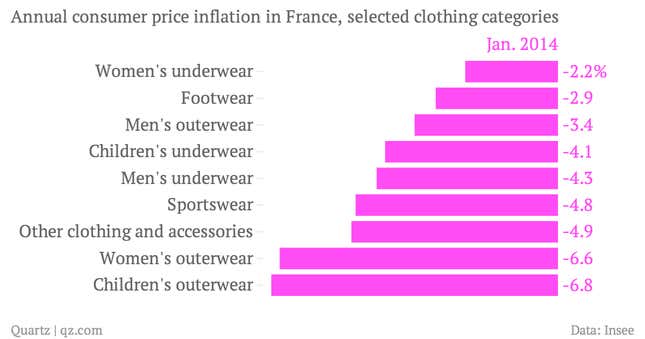 Notably, prices for women's outerwear fell by just under 7%, three times as fast as prices for underwear. The gap for men's and children's smocks and skivvies was not nearly as wide. This suggests, perhaps, that lingerie is a luxury French women are less willing to skimp on in straightened times, thus giving fashion retailers more pricing power. Still, the January drop in prices for women's knickers was the steepest since 2011, when it looked like the euro zone was about to break apart.
The message is clear: Thanks to the country's economic malaise, there are bargains to be had in the home of haute couture, so now is a good time to stock up on fancy French underwear.