As heavy smog envelopes Beijing and neighboring cities this week, residents are rushing to stores to buy face masks that promise to protect them from harmful pollutants in the air. But whether these masks, now a permanent accessory for most urbanites, actually do much good is still very much an open question.
"In China, people just pretend or assume [face masks] are useful. It's mass behavior," says Wong Chit Ming, a researcher at Hong Kong University's school of public health. "You may feel a little better…but there's no real evidence they help."
Air pollution has spawned an entire industry around face masks, or kouzhao, that usually cover the nose and mouth. They include cotton masks with cute designs, surgical masks, and imported high-end filters, and last year, Chinese shoppers spent 870 million yuan ($141 million) buying them on Taobao, the country's largest e-commerce site. Earlier this year, officials in Shanghai considered distributing 23 million protective masks to residents.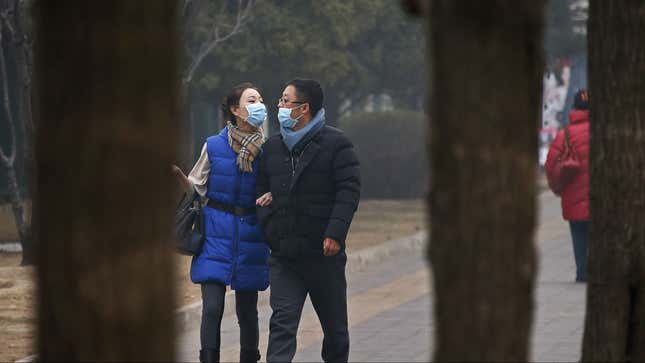 Richard Saint Cyr, a doctor and director of communications at United Family Healthcare in Beijing, says some face masks can reduce exposure to harmful particulate matter in the air that is small enough to enter one's bloodstream. He recommends 3M—which makes a type of mask that construction workers in the US have been using for years—as well as filtration masks from Vogmasks and Totobo.
Still, the vast majority of Chinese residents use cheap cotton masks that offer little protection. Many companies say their masks reduce particulate matter by 99%, but there is no national standard or regulatory body that evaluates their claims. Also, expensive respirator-style masks aren't made to fit Chinese faces well, according to a study in January.
The US embassy in Beijing warns that lightweight masks that fasten behind the ears, instead of behind the back the of the head, do very little to protect from PM2.5 particulate matter, which is the most dangerous because its small particles can penetrate deep into the lungs:
Do not rely on dust masks for protection. Paper "comfort" or "dust" masks are designed to trap large particles, such as sawdust. These masks will not protect your lungs from small particles such as PM2.5. Scarves or bandanas won't help either. Disposable respirators known as N-95 or P-100 respirators will help if you have to be outdoors for a period of time.
Even those benefitting from China's kouzhao boom admit that their masks can only do so much. "We cannot mislead consumers,"said Jiang Xiubin (link in Chinese), head of an association for face mask producers in Dadian township, in Shandong province, which makes about 80% of the air masks (paywall) worn in China. "Our facial masks provide protection against dust, keep wearers warm and are stylish, and that is all," he told the Southern People Weekly in December.
For now, many Chinese officials and residents see the masks as better than nothing. On its Sina Weibo microblog account, China's National Meteorological Center posted a photo of a face mask, grey and dirty after just for 1.5 hours of use, as a reminder to residents to wear them.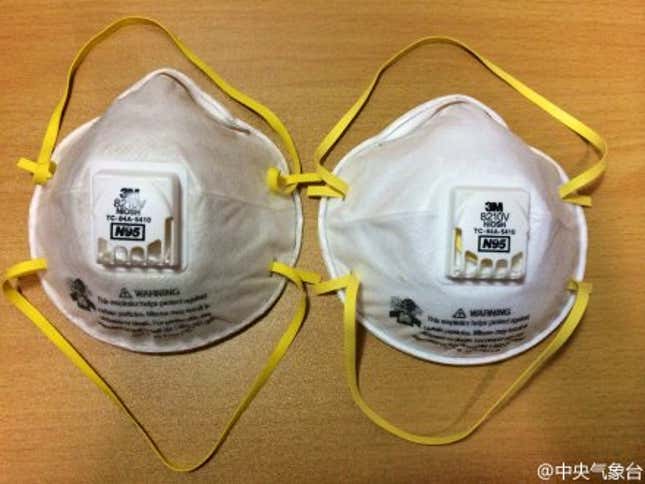 On Feb. 25, Chinese bloggers were surprised when Chinese leader Xi Jinping braved the smog and took a walk through a Beijing neighborhood, without wearing a face mask. One blogger commented (registration required), "The leader isn't wearing a mask. He's using willpower to repel the smog."