Germany is continuing to rely a lot on its export sector for growth.
The Federal Statistical Office confirmed a previous estimate that Europe's largest economy expanded by 0.4% in the fourth quarter of 2013, compared to the prior three months. Though the economic performance of Germany is better than many of the neighbors, on par 2013 was pretty weak. Full-year growth arrived at 0.4%, the slowest since 2009.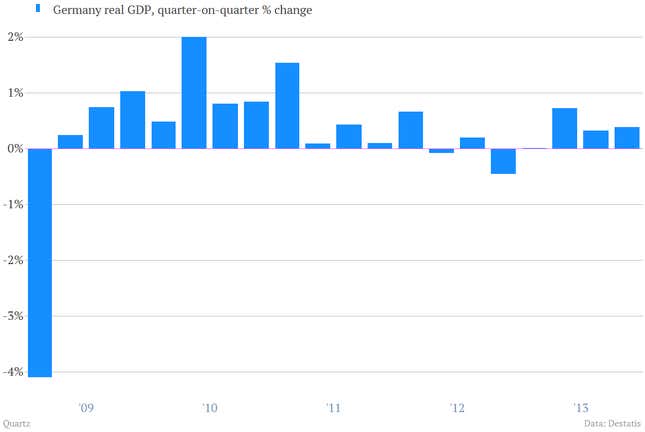 Exports, which grew by 2.6% in the fourth quarter, compared to the prior quarter, were a main source of growth. (Imports were up a scant 0.6%.) The agency said exports accounted for 1.1 percentage points of GDP growth. In other words, without exports, the country's economy would have contracted during the quarter.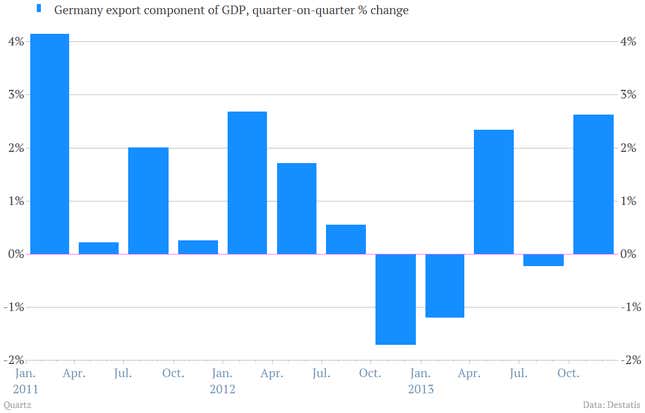 The upshot? Well, you shouldn't make an international incidence out of one quarter of economic growth. But if you wanted to, you could argue that Germany continues to run its economy in a neo-mercantilist manner when it should be boosting domestic demand to improve growth both within the country and in the region as a whole.