When Anheuser-Busch InBev—the world's largest beer-maker by sales— swallowed Chicagoland craft brewery Goose Island back in 2011, the rationale for the $39 million deal was simple: Put the full distribution firepower of the brewing giant behind an increasingly popular independent brand. That happened in late 2012. The result? Sales volumes are booming. Last week, Anheuser-Busch InBev disclosed that, through the fourth quarter, Goose Island volumes were up 70% over the previous year.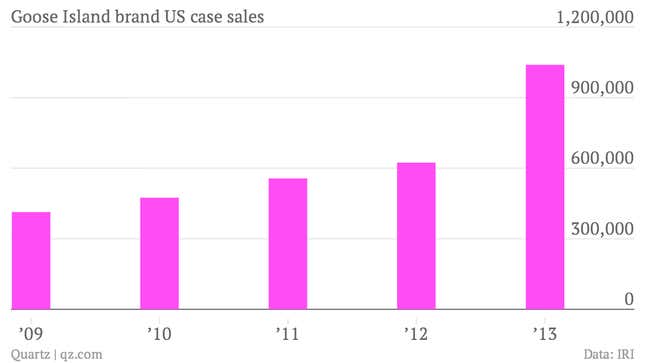 Of course, sales of Goose Island beers—which include 312 Urban Wheat and Honker Ale—are tiny in the context of a megalith like AB InBev, which reported better-than-expected profits for the quarter. (Though, profit margins on its high-end product are pretty good.)
Still, the Goose Island acquisition will be closely watched as test case, given the fact that food-and-beverage giants are increasingly trying to cater to consumer obsessions with craft and quality in rich countries. Goose Island plans to introduce 18 new beers this year.