In the 1980s, Air Jordan sneakers were so sought after that there were reports of teenagers being mugged for them in cities across America.
For those who missed the hype first time around, Air Jordans are basketball sneakers imbued with the gold dust of the former NBA star and global sports icon Michael Jordan. The Air Jordan brand, a subsidiary of Nike, was launched in 1985 and now includes 28 core shoes and hundreds of others. Unlike many other iconic fashion artifacts, Air Jordans have remained wildly popular. The brand has grown in the double digits virtually every year since its launch. In 2012, Jordan sneakers raked in some $1.25 billion in the US alone, according to SportsOneSource analyst Matt Powell.
Among nostalgics, collectors, and sneaker aficionados, the demand for both vintage and new limited edition Air Jordans remains so great that the primary market can't seem to sate it. On the online auction site eBay, some 2.25 million pairs of sneakers were sold for roughly $200 million last year, according to estimates by sneaker data site Campless. And of that, over $62 million was spent on Air Jordan sneakers, which can go for as much as $2,800 for a pristine pair of 1985 originals, still in their box, or $1,500 for a limited edition Retro 4 IV Doernbecher pair, which originally retailed for $175 in 2011. Jordan XIs and Jordan Vs alone, the two most popular makes, accounted for more than $25 million of eBay sneaker sales. But there are plenty of other hefty top sellers.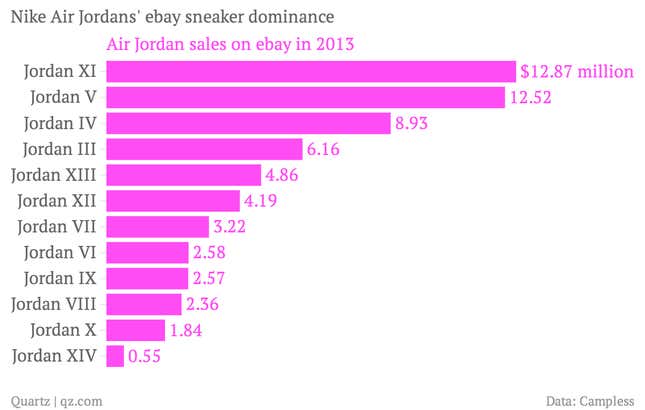 The total amount that eBay customers spent on Jordans is likely even higher than the $62 million figure, Campless founder Josh Luber told Quartz. His sneaker price guide currently tracks the average price of 840 sneakers on eBay, but includes only the most popular models of Air Jordans, and doesn't account for many other Air Jordan brand sneakers. Those, Luber says, could tack on an extra $5 million or so in eBay sales. "You still have the Jordan 1, 2, and 15-28, and others," he said. "Many Air Jordan shoes sell at enormous premiums on eBay."
Jordan himself hung up his basketball sneakers when he retired back in 2003, but he still rakes in around $80 million a year, much of which (roughly $60 million) comes from his lucrative partnership with Nike, according to Forbes. What's incredible is that given the vast and active secondary eBay market for his Air Jordan sneakers, he may still be missing out on millions.