This week, India's Central Bureau of Investigation said that the country has 2 million non-profit organizations–one for every 600 people. However, many within the non-profit sector believe the figure could be much higher.
"The numbers are irrelevant in India, where schools, hospitals, temples and even housing societies could be registered as trusts, societies or non-profits," said Manas Ratha, director of Dasra, an organization that helps connect philanthropists with suitable non-profits.
The CBI issued its estimate in response to a Supreme Court order in September. While hearing a public interest litigation against the alleged misuse of funds by Anna Hazare's NGO Hind Swaraj Trust, the court asked the agency to assess the number of non-profits on the rolls of the Registrar of Societies and find out if they filed their tax returns.
The CBI found 1.3 million NGOs in the states and union territories that submitted their data. But 11 states–including Delhi, Andhra Pradesh, Karnataka, and West Bengal–failed to respond, so the CBI extrapolated a number of 2 million. Here's a chart with numbers crunched by Quartz's Annalisa Merelli comparing how India stacks up to other countries: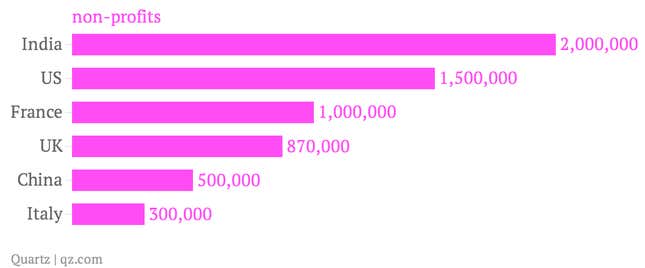 However, officials in the non-profit sector say India's number could be too low, since NGOs are also registered under the Public Trust Act, the Charitable and Religious Trust Act or the Indian Trust Act, among others.
Even though statistics may be difficult to pin down, nonprofits say they have noticed a significant rise in the number of new NGOs over the past decade. They believe this trend has been triggered by a combination of increasing wealth, a growing entrepreneurial spirit, and rising social inequality.
"With more wealth being generated within the country, there are a lot more funds available for non-profits," said Madhav Chavan, founder of Pratham, one of India's foremost educational NGOs. "As wealth increases, the need for charity increases." While 2 million may seem like a lot of non-profit organizations, having one for every 600 people isn't actually all that much: the United States has three times more non-profits per capita than India; France and the United Kingdom 10 times more.


A legal change is also responsible for the mushrooming of NGOs in India. In 2013, the Companies Act was amended to require large firms with a net profit of at least Rs 5 crore to spend 2% of their three-year average annual net profit on corporate social responsibility. Aparajita Agrawal, director of the Sankalp Forum at Intellecap, a social advisory firm that helps businesses address social and developmental issues, says this is a positive sign that will push more NGOs to emerge, even as greater accountability will be demanded from them.
Perhaps the most significant factor contributing to the rise of NGOs is the entrepreneurship boom. Indians say people in the non-profit sector are no longer happy to be cogs in a wheel in big companies and are keen to start their own organizations. "Entrepreneurs are increasing in the corporate world, and the same is happening in the social sector, where people find more meaning," said Pooja Taparia, founder of Arpan, a non-profit working against child sexual abuse. "There is a general atmosphere of encouragement in the social sector."
Others believe that the spurt in non-profits is a consequence of the governance gap: since the government can't perform all its tasks, it is increasingly partnering with civil society groups to help out. "The government cannot do everything well, so it outsources some kinds of work–such as the running of mid-day meal schemes–to non-profits," said Chavan.
Agrawal sees the growth of NGOs as a boon in disguise for the social sector. "This is going to lead to more debates and discussions on the need for accountability, and that is a very healthy trend to have in a sector which is still reasonably nascent and not so organized," she said.
A version of this post originally appeared at Scroll.