When one of the richest men in the world offers free advice, you listen. Of course acting on it is another thing, but investors have been hearing Warren Buffett out for years in his role as chairman and CEO of Berkshire Hathaway through his annual letter to shareholders, in which he not only discusses the company's performance but also offers general views on the economic and investment landscape.
This year Buffett used 138 words in his letter he had never used before, including "timid," "fluctuation," "Texas-sized," "geography," and "soybeans." In certain years Buffett has grown the letter's lexicon more than the year before. This year was not one of them.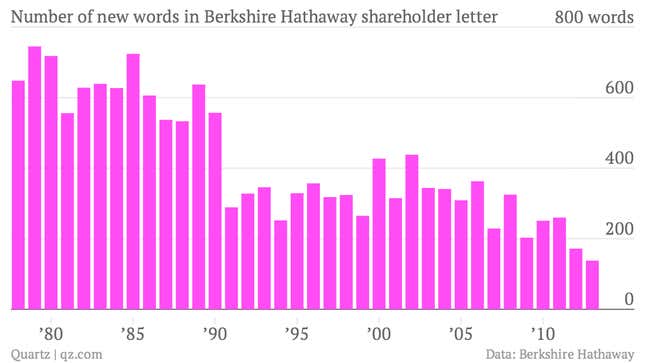 The number of new words used in the letter should be expected to decline year to year since the size of the English language is mostly fixed (let alone the subset of it used in such a letter). Nonetheless, Berkshire only lists Buffett's letters on its website since 1977 even though he's been writing them for much longer—even before he became the majority shareholder of the company he's now known for.
Since 1977 Buffett has used 16,001 different words in the letter but only 129 of them have shown up in all 37 (excluding common words like "is," "I," and "because"). He's used the words "shareholders,"  "million," "value," "capital," "managers," "underwriting," and "significant," among others, in every letter. Appropriately, the word he has used most often since 1977 is "business," which has also appeared in every edition, a total of 1,905 times.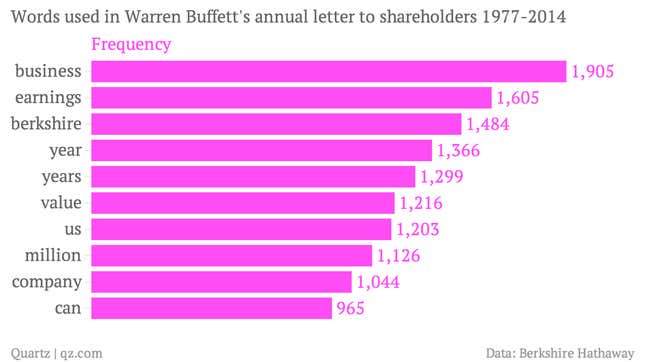 When it came to three-word phrases, Buffet's favorite by far was "Charlie and I." Charlie is the Berkshire Hathaway vice-chairman Charlie Munger. Buffett often positions his musings as mutually held beliefs he shares with Munger and describes the work he does as they work they do together. This year Buffett said he and Charlie, "search for elephants" (meaning large companies to acquire), "have always considered a 'bet' on ever-rising U.S. prosperity to be very close to a sure thing," "believe the true economic value of our insurance goodwill," and "treasure these [insurance] companies and their managers."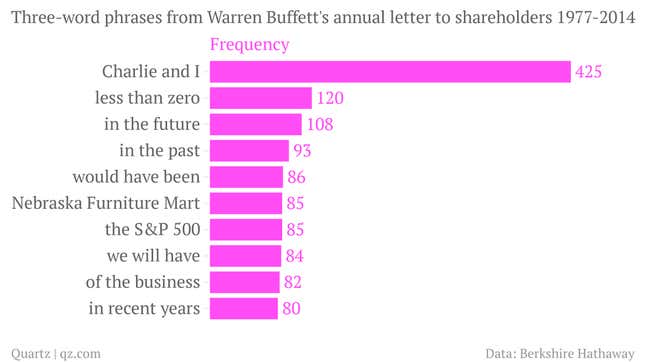 Compared to the entire corpus of letters, Buffett increased his usage of "Berkshire," "billion," "value," and "insurance" in this year's edition. After "billion"—which Buffett used 2.5 times as often as usual—was "farm," used at a rate of three times per 2,000 words; Buffett has typically used it at a rate of once every 10,000 words. This year's letter included a discussion of the wisdom of buying an Omaha area farm in 1986 after asking his son for advice on the potential for the land. Buffett says he's only visited the the farm twice but it has tripled its earnings and is worth five times what he paid.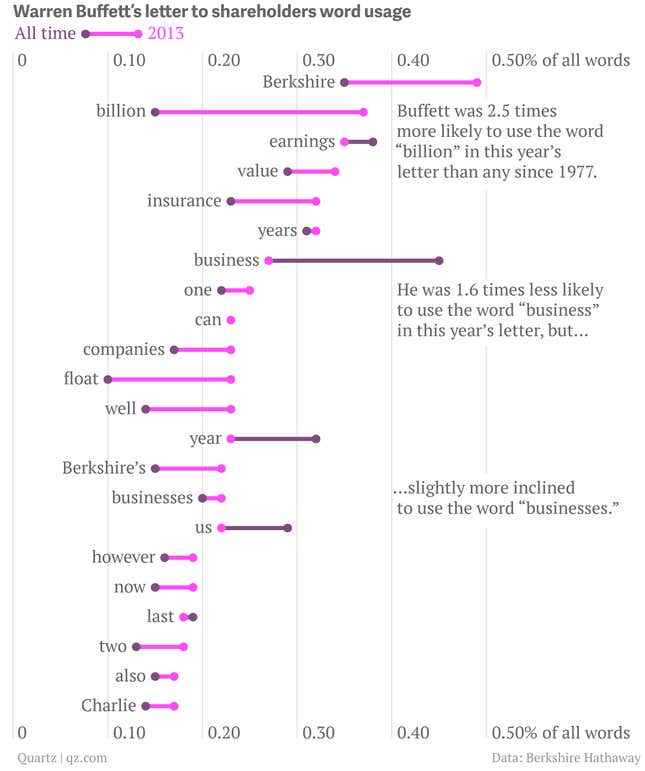 This year's letter was shorter than last's for the third straight year. At, 12,768 words this year the letter is about a 30-minute read and about the same average length as the last 20 letters.