"The '80s called. They want their store back,"the RadioShack clerk says in the ad that ran during last month's Super Bowl game.
Unfortunately for the electronics retailer, moving its stores into the 21st century doesn't mean just updating the merchandise, as the ad suggests; it means getting rid of the stores altogether.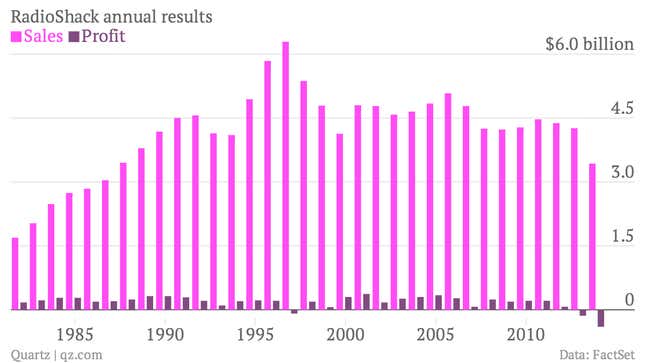 RadioShack's ad might have been amusing, but it's a curious use of capital by a struggling company that just signed off on a $400 million loss for 2013. The company's sales have halved since their mid-1990's peak, and today it announced it's closing another 1,100 stores across the US, after shuttering 235 in 2012.
RadioShack's problems are myriad. Like other brick-and-mortar electronics retailers, it has struggled in the face of aggressive competition from the online juggernaut that is Amazon. But it has also shot itself in the foot with outdated product choices and substandard customer service. The company's stock price is currently in the doldrums, amid persistent rumors (paywall) it could formally file for bankruptcy.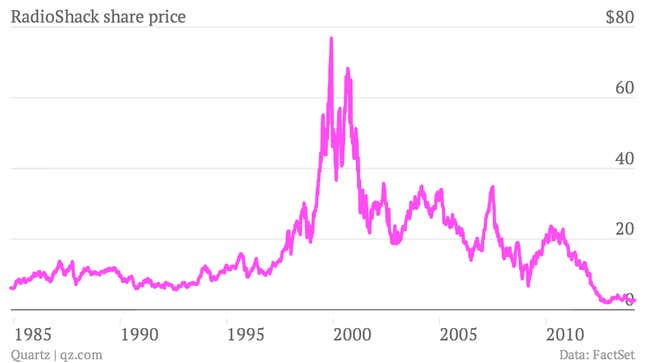 Last year, we suggested Amazon should just buy the company. Jeff Bezos's online behemoth has been inching towards its own physical retail presence, by installing lockers at gas stations and convenience stores where deliveries can be received. After its latest closures, RadioShack will still (incredibly) have more than 4,000 stores around America. With a market value now well below $300 million, it is even cheaper than it was a year ago, and worth only slightly more than Bezos paid out of his own pocket to buy the Washington Post. This thesis remains compelling, and for RadioShack, possibly the only way out.