Predicting what central bankers will do is a mug's game. More often than not, expectations are dashed. And today was no different.
"You come here every time expecting action," European Central Bank president Mario Draghi told journalists at a press conference. But the ECB kept interest rates on hold at its latest meeting, defying calls for a rate cut or even a round of quantitative easing.
Although the euro zone economy is not strong by any measure, recent data point to a slow but steady recovery. The biggest worry, in many minds, is persistently low inflation: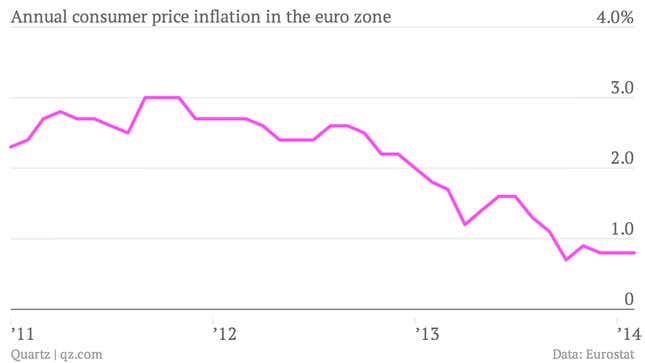 The ECB's primary goal is to maintain inflation at just below a target of 2%. But inflation has run at less than half of the target rate for some time, raising fears that the euro zone could tip into Japan-style deflation. Draghi himself has said that inflation languishing below 1% is in a "danger zone." Proactively steering the economy away from this danger is the most common argument for the ECB doing more to stimulate the economy.
Draghi came prepared to face a barrage of questions about inflation today. For the first time, the ECB extended the horizon for its official economic forecast (pdf) to three years. In 2016, the ECB reckons inflation will average 1.5%, or roughly double the current rate. In a highly unusual moment of specificity, Draghi also said that inflation in the fourth quarter of 2016 was projected to accelerate to 1.7%, supporting his claim that long-term inflation is "firmly anchored" to the bank's 2% target. The president claimed that the euro's strength against other key currencies over the past two years has suppressed overall inflation by around 0.4%.
Somewhat undercutting his message, however, was the fact that the ECB has consistently overestimated inflation in previous forecasts: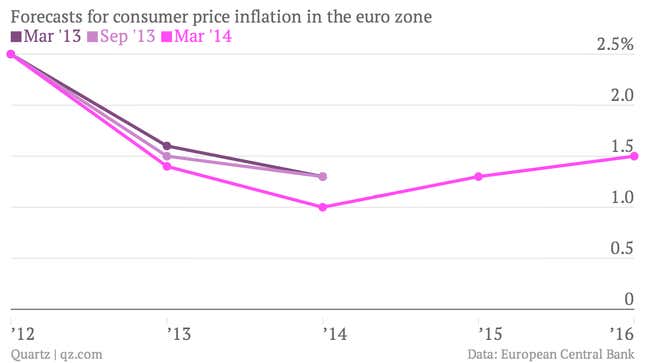 The ECB's forecasts for GDP growth have also been off, but in the other direction; today it upgraded its outlook for euro zone growth this year, to 1.2%, with a steady acceleration in future years: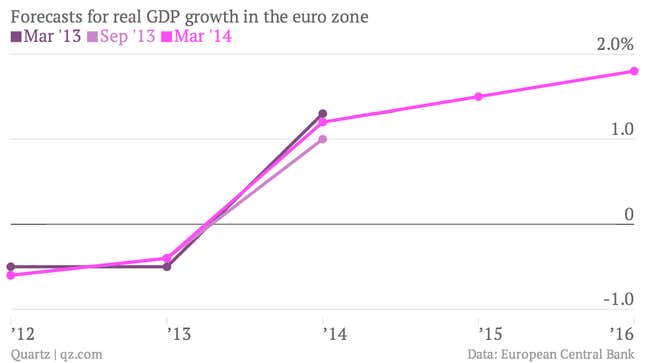 According to the ECB's forecast, the euro zone economy is in pretty good shape, all things considered. The traders expecting rate cuts or new stimulus measures were in retreat as soon as Draghi revealed this updated outlook. The euro was stable when the ECB announced no change to rates at 1:45pm in Frankfurt, but shot upward 45 minutes later when Draghi started detailing the new economic forecast at the press conference.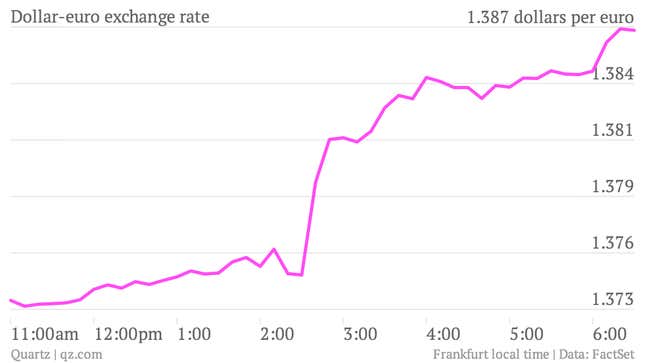 Although growth is weak and inflation is lower than the ECB would like, the bank believes that these indicators will continue to drift in the right direction. After each of the three rate-setting meetings so far this year, Draghi has said that the bank stands ready "to take further decisive action if required." Based on his reading of the economy, he hasn't yet seen the need to change course, whatever others might expect.