Update (Mar 8, 10.00 ET): While the airliner has not yet been found, Vietnamese authorities have reported sighting oil slicks near the Vietnamese coast that may be a sign of a crash at sea. Separately, it is worth noting that the last Malaysia Airlines crash was in 1995.
Original: Malaysia Airlines flight 370 from Kuala Lumpur to Beijing has gone missing, the airline and Chinese authorities said March 8. The Boeing 777 aircraft had 227 passengers and 12 crew on board, including 160 Chinese nationals, and was expected to land in Beijing at 6:30 am.
The rapid growth of flights and passengers in Southeast Asia has taxed airline infrastructure, as Quartz reported earlier, and raised questions about levels of safety standards and knowledgeable pilots in the region. The Boeing 777 has had a near spotless safety record since it was introduced in 1995, except for the 2013 crash of South Korea's Asiana Airlines.
Malaysia Airlines and other flag carriers in East Asia are being squeezed on both sides by low cost carriers and deep-pocketed Middle East airlines. Passenger traffic for Malaysia Airlines grew 28% in 2013, the Centre for Aviation reported, "some of the fastest growth in Asia," but the airline still had a third quarter loss because of high fuel costs and stiff competition that put pressure on prices.
Less than 35% of the airlines in Southeast Asia are certified by the IATA, an industry trade association, but Malaysia Airlines is among those certified. Asia accounted for 43% of all airline fatalities (pdf, pg. 10) in 2012, the latest annual statistics available, second only to Africa with 45%.
China's state-run Xinhua news reports that radar contact was lost over air space controlled by Vietnam, and Flightradar24, a real-time flight tracking service, shows radar contact disappearing over the South China Sea: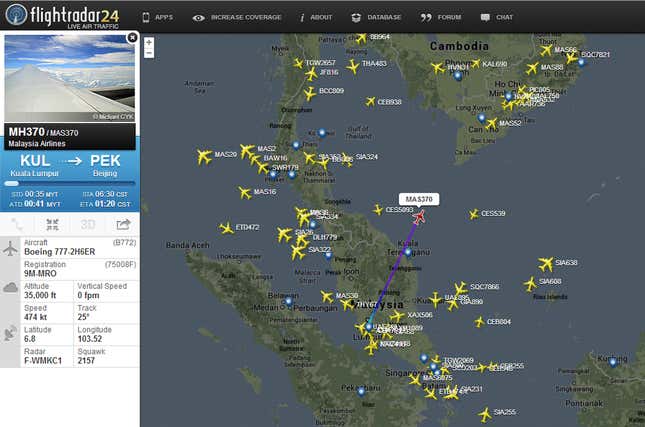 The airline confirmed the plane was missing at 7:24 am, Malaysia time, in a statement on its Facebook page:
Malaysia Airlines confirms that flight MH370 has lost contact with Subang Air Traffic Control at 2.40am, today (8 March 2014).

Flight MH370, operated on the B777-200 aircraft, departed Kuala Lumpur at 12.41am on 8 March 2014. MH370 was expected to land in Beijing at 6.30am the same day. The flight was carrying a total number of 227 passengers (including 2 infants), 12 crew members.
Just over an hour later, Malaysia Airlines said it was contacting passengers' next of kin.