Chinese exports fell a surprising 18.1% in February, when economists were expecting a meager but positive increase of 6.8% and a trade surplus of $14.5 billion. Instead, the data showed a rare trade deficit of $22.98 billion (paywall) and provides yet another worrying sign that the mammoth Chinese economy is starting to falter.
The Chinese economy may indeed be slowing as officials try to shift the country away from a reliance on investment and credit-fueled growth toward one more dependent on domestic consumption. And yet—as is all too often the case in China—the trade numbers might not be all that they seem.
The culprit is again fake invoicing, one of the consistent distortions in Chinese trade data caused by firms using faked export orders to Hong Kong as a way to circumvent capital restrictions and funnel cash into the country. Chinese firms have been actually faking exports less since last spring but the practice is still creating trade distortions, by making this year's declines this year look steeper than they actually are.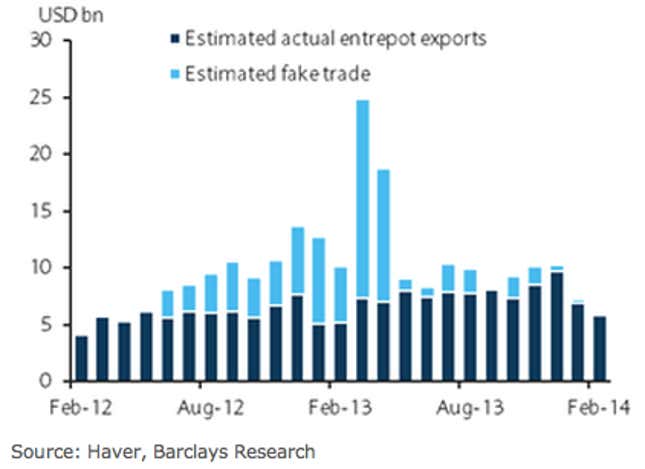 Exports to Hong Kong, which would be inflated because of faked trade, fell 24.3% in February and 18% in January, Barclays points out in a note on March 10. "Much of the fake trade last year was disguised as exports to Hong Kong, thus causing a high base," Barclays analysts wrote.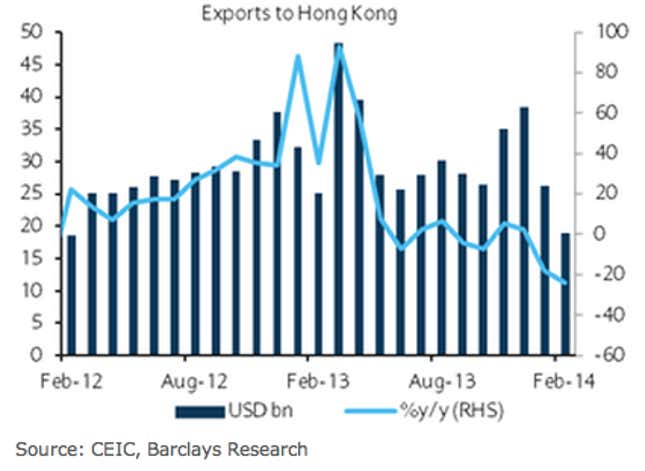 The usual Lunar New Year slowdown also caused a downtick in exports, but even when the seasonal effect and the inflated comparable period are accounted for, what's left is a confirmation that China's robust export machine is looking a little rusty these days.