The world's most popular cheap cooking oil is becoming less affordable.
Palm oil prices are up 10% since the start of the year, and closer to 16% since the end of January, when they dropped to $765 per tonne ($843 per ton). The stuff hasn't been this expensive since September of 2012.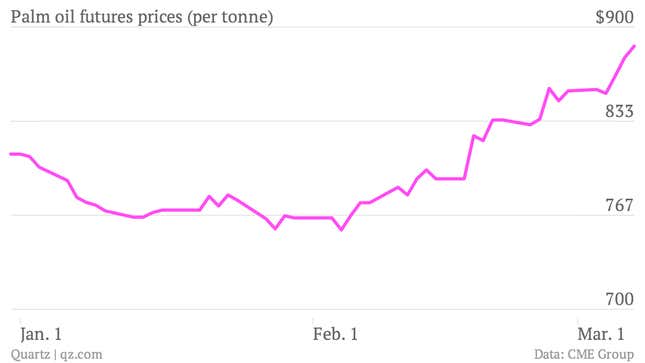 What gives? It's a matter of supply and demand. Palm oil, which is extracted from palm fruit, has been marketed as a cheap and natural alternative to trans fats. And the marketing has worked. "Palm oil has become the edible oil of choice, if you will, for much of the world," Michael Shean, a global crop analyst with the US Department of Agriculture, told World Watch.
The world wants more palm oil—in particular the US, which imported a record 2.7 billion pounds of it in 2012—but Indonesia and Malaysia, which together produce some 85% of the world's palm oil supply, according to Green Palm, are suffering through extended dry spells, disrupting the growth of fresh fruit branches. "We don't have much rain, production is expected to be low," one foreign commodities analyst in Kuala Lumpur told Reuters. The droughts in Southeast Asia have become so severe that Indonesia has had to fend off forest fires and declare a state of emergency in the country's Riau province, and Malaysia has begun rationing water.
The Ukranian crisis hasn't helped either. The conflict has pushed crude oil prices up, which have in turn led to increased demand for biodiesel alternatives, which often include palm oil. "There may be a short-term spike in substitution with biodiesel," Yong Khai Weng, a director at Oiltek, told the Wall Street Journal.
The growing demand and shrinking supply isn't just affecting palm oil prices—it's also damaging forests. As Southeast Asia ramps up production to feed the world's growing appetite, the region is adopting increasingly environmentally questionable practices. Large-scale deforestation is among the most severe, and is threatening tigers and other wild animals, according to Greenpeace. The consumer goods giant Proctor & Gamble, which is among the world's largest purchasers of palm oil (which is used in scores foodstuffs sold by P&G), has been specifically targeted for its alleged complicity in such practices.
Still, palm oil's popularity is undeniable. It's used in Nutella, Oreos, and Girl Scout Cookies, among many other things (mainly snackfoods). Over the past half-century, amidst a global shift toward natural fats, the cooking oil has grown from relative anonymity to global ubiquity. "It's grown on a large scale in Malaysia and Indonesia, but it's become a global commodity in diets essentially everywhere," Colin Khoury, a researcher at the International Center for Tropical Agriculture, told NPR. Palm oil generates $50 billion annually and is used in about half of all packaged foods. On average, people around the world get 173% more of their calories from palm oil than they did back in 1960. The more expensive palm oil gets, the more expensive a lot of basic foodstuffs may become. Especially spreads like Nutella, which is, rather shockingly, 20% palm oil.