Men are spending more money on clothing than ever before.
The global apparel industry has managed to weather economic slowdowns in a number of key regions, including North America and Europe, but it's menswear that's leading that charge. Men's clothing outperformed women's in a number of key markets, including the US, UK, and Germany, last year, according to a new report by Euromonitor. Worldwide, men's apparel sales grew by just under 5% in 2013, just above the growth of womenswear.
You can call it what you like. Euromonitor calls it "the global menaissance."

And it's actually been going on for quite a while. Men have been spending more on their outfits each year for well over a decade now—menswear sales, adjusted for inflation, are up 70% since 1998. The market is expected to top $450 billion this year.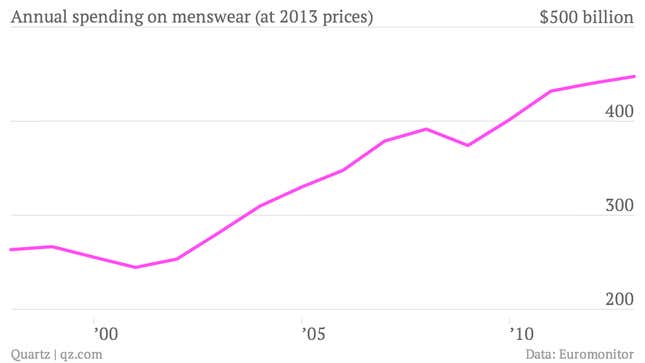 They've been more willing to dish out a little extra extra cash on a few things in particular. Suits, "nightwear" (or pajamas and robes), and swimwear sales have each just about doubled since 1998: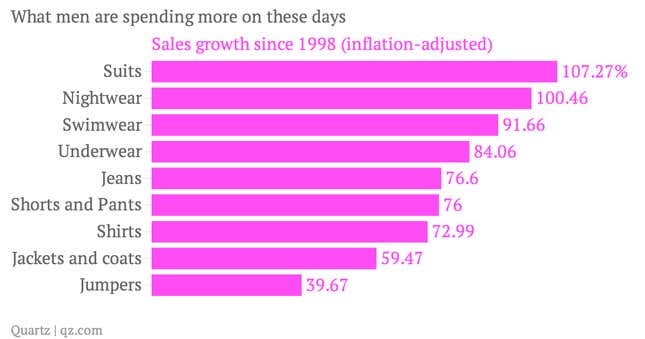 All the extra attention men's clothing sections (and sites) have been getting means that menswear now takes up a larger percentage of the overall clothing market—42% in 2013, compared to 38% in 1998. And it accounts for a quarter of the overall apparel and footwear market.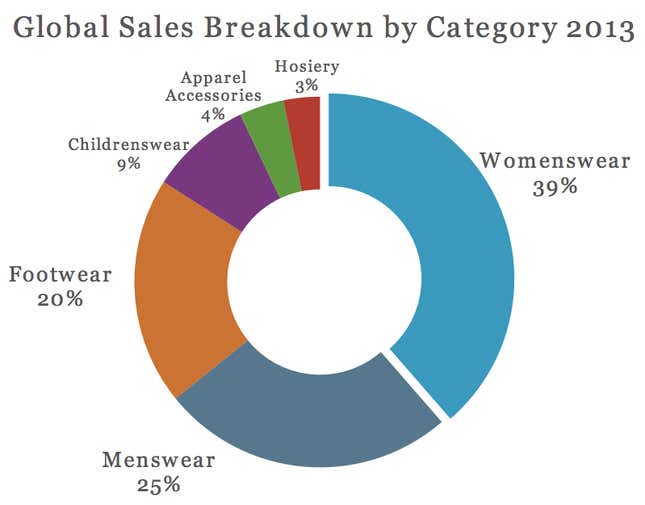 What's more, that growth in man-shopping may still be understated. The menswear category doesn't include several other male accessories, including man-bags, which are becoming increasingly popular. Take into account the fast-growing man-purse market, which reached just under $9 billion dollars last year, and the rise of menswear is made all the more impressive.