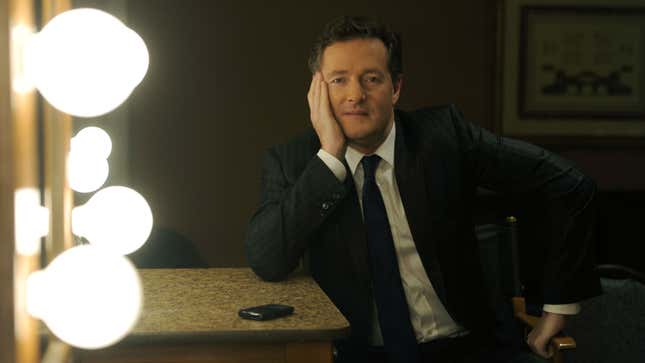 In 2002, the Daily Mirror wrote that Sven-Göran Eriksson, the former England football manager, was having an affair with Ulrika Jonsson, a gorgeous Swedish-British TV presenter. The story won "scoop of the year" at the British Press Awards. Not long after the paper's then editor, Piers Morgan, teased Jonsson over lunch about how he had come to know about her love life, before explaining to journalist Jeremy Paxman, another guest at the lunch, how to stop people from hacking into your phone messages (paywall).
Those comments are at the heart of a new lawsuit filed against Trinity Mirror, publisher of the Daily Mirror, the Sunday Mirror, and the People tabloid newspapers. Eriksson has claimed phone-hacking by the Daily Mail when Piers Morgan was editor. Other claimants include Abbie Gibson, the former nanny for David and Victoria Beckham's children, Shobna Gulait, the Coronation Street actress, and Garry Flitcroft, a former football team captain for the Blackburn Rovers.
The news comes amid financial trouble at Trinity Mirror. The company, which publishes more than 130 regional UK papers, reported a 40% drop in pre-tax profits to £74.4 million in 2012 (paywall), and by the end of last year had piled up net debts of £221.2 million. Like the News Corp phone-hacking scandal before it, this one too threatens to balloon into something big.
It also comes just as proposals are due out regarding ethical conduct of the press and suggesting new regulations that could include forcing media to be part of a regulatory body.
Following the News Corp hacking scandal that involved celebrities, politicians, and members of the royal family, Sir Brian Henry Leveson, an English judge referred to as Lord Justice Levenson, was asked to lead an investigation into the culture, practices, and ethics of the UK media industry. This became known as the Leveson Inquiry.
Paxman, presenter of the BBC's Newsnight program, told the story about the lunch conversation with Morgan at a Leveson hearing. Morgan, now a TV host for CNN, has repeatedly denied that the Daily Mirror was ever involved in phone hacking when he was editor between 1995 and 2004. But it may be his own hubris that hangs him.
During a Leveson Inquiry related to a phone message from ex-Beatle Sir Paul McCartney to his then wife, Heather Mills, Morgan was asked if he thought it unethical to listen to phone messages. He replied:
It doesn't necessarily follow that listening to someone else talking to someone else is unethical.