Nearly six years ago, Barclays had high hopes that its purchase of Lehman Brothers' US operations—acquired for the relative pittance of $250 million—would prove a resounding success. The theory of then-president Robert Diamond was that Lehman would give the largely consumer-focused bank a leg up against its fiercest investment banking rivals. But success in investment banking for Barclays has proven to be far more challenging than Diamond ever envisioned.
Less than four years after the the Lehman acquisition, Diamond, who eventually would become CEO,  departed (paywall) under the cloud of an interest-rate scandal. And the firm hasn't fared much better under new boss Antony Jenkins. A currency trading scandal is proving the latest major blemish for the UK financial institution.
Now Barclays appears to be preparing a full revamp of its investment banking dreams, as European shareholders and regulators are imposing tougher rules across the banking industry. Although Diamond's plans for expansion at Barclays have withered a little since he was ousted,  it seems even clearer lately that the investment banking platform he established is due for a significant makeover. 
Indeed, the Financial Times first reported on Tuesday that Barclays is mulling an overhaul (paywall) of its investment banking operation, after Jenkins received criticism for paying the firm's investment bankers  13% more than they made the year before—despite the firm's lackluster performance.
A person familiar with Barclays' plans to reshape its banking franchise told Quartz that it is in the process of reviewing the scale of its investment bank, which generates 40% of total revenue. The firm could make an announcement by the summer, this person said. A Barclays spokeswoman in London declined to comment.
Given his retail banking background, it was expected that Jenkins would eventually steer Barclays more toward the safer business of consumer banking.  But to date his intentions, beyond cutting staff, haven't been clear. Although Jenkins refused  to take a bonus this year, he's delivered mixed messages about whether banker pay should be linked to performance.
As reported by the The Independent, Jenkins sent a letter to Barclays staff in January, 2013 that staked out an aggressive stance about banker pay in relation to performance:
There might be some who don't feel they can fully buy into an approach which so squarely links performance to the upholding of our values. My message to those people is simply: Barclays is not the place for you. The rules have changed. You won't feel comfortable at Barclays and, to be frank, we won't feel comfortable with you as colleagues.
But in a recent interview with the Telegraph, he seemed to make an about-face from those views, defending an increase in banker pay despite a 32% drop in Barclays's profit. If bonuses had not been raised, he said,  Barclays would have been in "a situation where the business begins to contract." 
People are less attracted to come to you, both clients and employees. You get into something of a death spiral. Your brand deteriorates, and you can move very quickly from being a first tier player to one in the second or third tier if you don't protect the franchise.
Given Barclays' dwindling return on equity, a key measure of bank's performance, over the years. shareholders have plenty of reasons to be upset.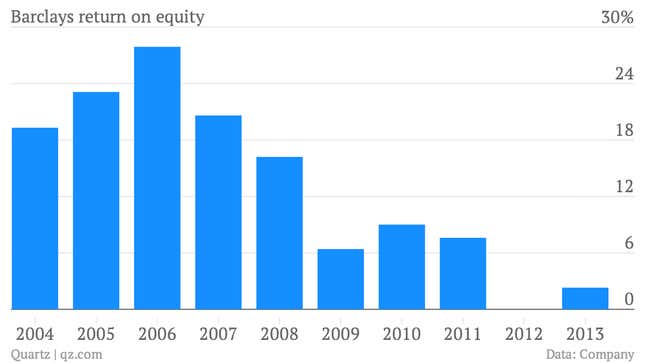 It remains unclear exactly what a downsizing of Barclays investment bank might look like. It was expected that the bank would lay off some 12,000 workers throughout the organization. Now's it's looking possible that more of those cuts could come from its investment banking arm. The FT reported that the co-heads of investment banking, Tom King and Eric Bommensath, may be among those who will feel the axe. An official at Barclays said no specific decisions about personnel in investment banking have been made.