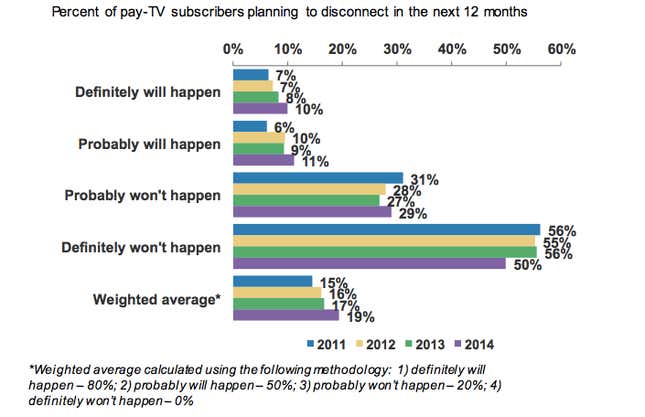 One in 10 pay-TV subscribers in the US say they will definitely "cut the cord" this year, up from 8% last year. And 11% say they probably will cut the cord (meaning cancel cable service), up from 9% last year, according to a survey of 2,501 Americans conducted by Morgan Stanley.
But half of them say they won't do a thing.
Still the trend is unmistakeable—more viewers want to cut down back on pricey packages and only stream TV over the internet. Except actually quitting cable is easier said than done. And while the total number of pay TV subscribers in America declined last year, the fall was nowhere near as sharp as the 8% of respondents in last year's survey would have predicted.
At any rate, for the cord-cutting that does happen, AT&T would appear to be most at risk of losing video subscribers, according to the survey.