America has an unemployment problem, but specifically, it has a long-term unemployment problem.
While the number of Americans unemployed for a few weeks or a few months has almost returned to pre-recession levels, the number out of work for six months or more remains abnormally high, as you can see in this Kevin Drum-inspired chart: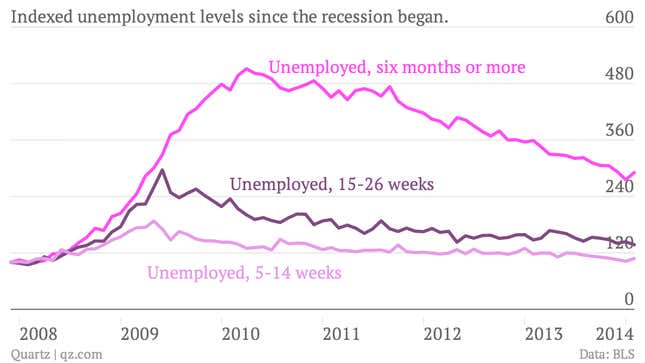 That makes news that US lawmakers have reached a $10 billion compromise to protect unemployment benefits—and pay them to retroactively to people who lost them in December—pretty striking.
In addition to the 1.3 million people who lost benefits in December, another 850,000 are scheduled to lose them by the end of March. That means over half of the 3.8 million long-term unemployed would end up without the $300 a week, on average, that they receive while hunting for new jobs. That inspired an ultimately futile effort to extend the benefits at the end of 2013, and a debate over what would happen when they were cut. Some economists argued that it would force the unemployed to accept low-paying jobs rather than holding out for other opportunities, but the broader fear is that they will stop looking for work instead—hurting their futures and economic growth.
We may not have a chance to test those hypotheses if this bill is passed. But despite bipartisan agreement in the Senate between majority Democrats and moderate Republicans, it's not clear it will get past conservative Republicans who control the House of Representatives. The Senate agreement, however, ups the pressure to take action on a painfully human economic problem during an election year.