Update (March 15): The Malaysian prime minster, Najib Razak, confirmed earlier reports in a press conference, saying the missing plane had veered from its planned route because of "deliberate action by someone on the plane." The last communication from the plane could have come from one of two corridors (paywall) stretching from Kazakhstan to Northern Thailand and from Indonesia to the southern Indian Ocean, he said, which appears to rule out the possibility of its being in the area of the Andaman Islands.
Original (March 14):
The Malaysia Airlines plane that has been missing for more than six days was "was deliberately flown across the Malay peninsula towards the Andaman Islands," Reuters reports, citing two unnamed officials. The plane reportedly followed the longitude and latitude checkpoints used by pilots to define air corridors, raising new suspicions that it was hijacked.
MH370 could have gone about 2,200 nautical miles (3,704 km) from its last reported position in the Gulf of Thailand, as the Wall Street Journal reported, which would put the Andamans well within the range. The chain is made up of hundreds of islands, most of them uninhabited, which separate the Bay of Bengal and the Andaman Sea. The Andaman and Nicobar island chain (its full name) is mostly administered by India, which lies 1,200 kilometers to the west, except for a few isles on the northern end, which are part of Myanmar.
If MH370 made it to the Andamans, is there anywhere it could have landed?
The short answer is yes—there are several airports long enough to land a Boeing 777. But doing so covertly would probably require the complicity of the Indian armed forces (or perhaps those of Myanmar), which makes it extremely unlikely.
According to Boeing's specifications for 777 aircraft (pdf, pg. 16), the plane would need between approximately 1,160 to 1,600 meters (3,800 and 5,200 feet) to land at sea level, depending on its weight at the time: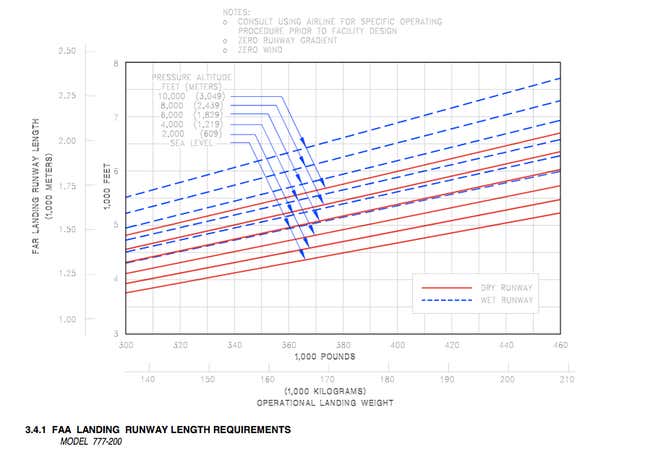 The main Andaman airport in the town of Port Blair is 3290 meters long—more than enough length for a 777. The airport is administered by the Indian Navy, which has just joined the search for the missing plane, so it's pretty certain that flight MH370 did not land there undetected. Indian ships have been searching an area that reaches 270 nautical miles north from Port Blair, and 70 nautical miles west from Campbell Bay.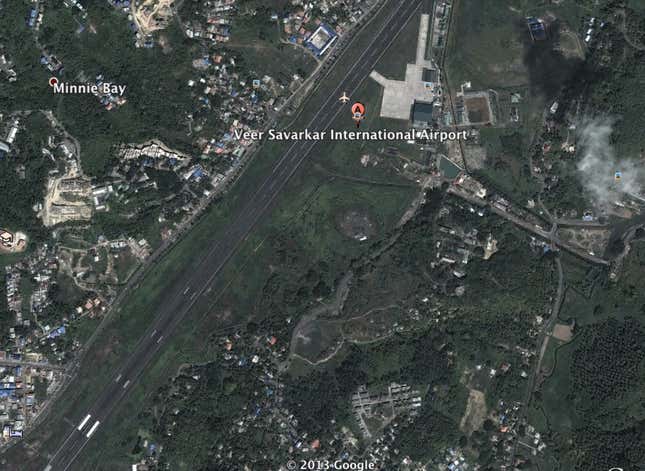 The island chain's other airports are the Car Nicobar Air Force Station (runway 2,717 meters), the Campbell Bay Airport (a mere 910 meters) and the tiny Shibpur Airstrip.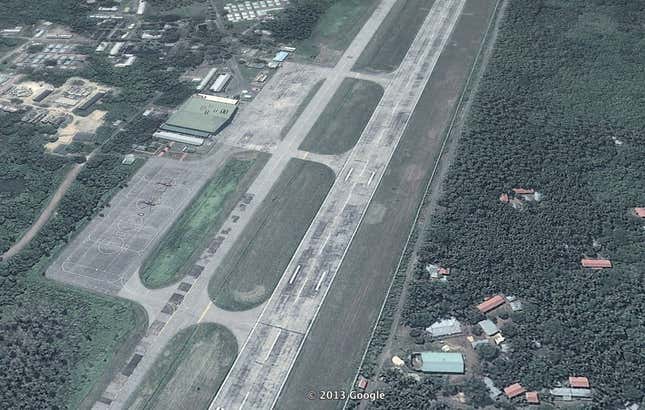 Slightly north of the Andamans, the airport at Coco Island, which is part of Myanmar, has a runway that is 1,400 meters long.