Startup notebook maker Baron Fig last year far surpassed its goal to crowdfund a first manufacturing order. Last week it opened an online store to sell its flagship notebook, "The Confidant."
Co-founder Joey Cofone sat down with Quartz to walk through how that product differs from other notebooks. Cofone also discussed how his two-man company is different than its competitors in the $4.3 billion US stationery industry. (pdf)
Quartz: Let's start off with the most basic notebook, the regular spiral. How is this different than your notebook?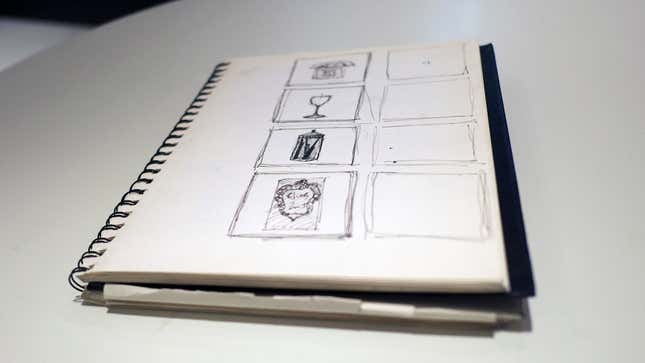 Joey Cofone: Yeah so there's a lot of stuff to take a look at with this book. I've used a few of these. Right off the bat, spiral falls apart pretty quickly. I'm not a big fan of spiral in that sense. The construction is weaker. But you can fold it all the way back, and that's something we're paying attention to in terms of version two and how to kind of bring this awesome functionality to the Confidant's awesome structure.
Quartz: Do you think you can achieve that in a hard-bound, closed-spine, type of book?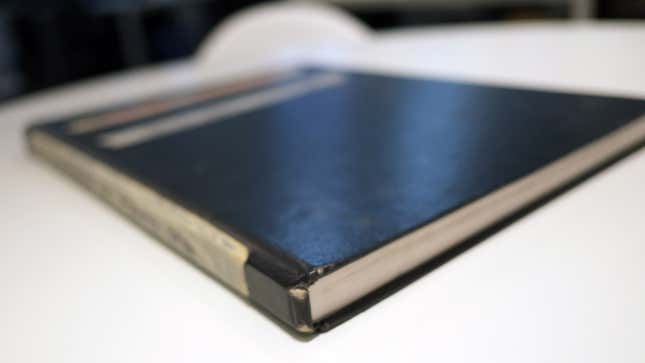 Cofone: Yes, I believe there's a way. I don't know that way yet but I do know already that [the Confidant] gets really close to getting there. What we did was, we took out the board that's in most spines. The boards are great because they protect it, but it's harder to open flat because you don't have a lot of flexibility with the signatures [the folded packets of bound paper.] We added more signatures and took out the boards. Basically more signatures means more joints and the more joints you have the more you can flex. There's 12 signatures in the Baron Fig. I think standard in the books we're looking at in comparable size and price have eight signatures.
Quartz: And do you have the same number of pages as similarly sized and priced books?
Cofone: They actually have slightly more pages. We have 192. I believe they have 220, but they have thinner paper. We went with a thicker, better-quality paper and cut down the pages a bit. People are loving our paper. There's a ton of great reviews from fountain-pen enthusiasts. That was a surprise. A happy accident, but it wasn't the goal.
Then using the cloth instead of straight cardboard to cover the book, people loved that too.
Quartz: Did you consider using leather like this book?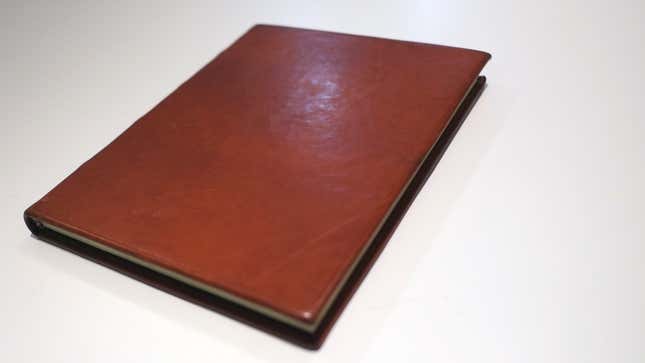 Cofone: We did. I'm not a big fan of leather.
Quartz: Is the plan for the Confidant 2 to be a second product or will it replace the first?
Cofone: We're treating it like it's in the middle between a tech product and an analog product. A product like Facebook or Nike Fuelband, they just iterate. We're going to go that route and keep things simple and see what happens.
Quartz: Why is thinking of Baron Fig as a 'tech company' and treating the Confidant like a 'tech product' important?
Cofone: We're expected to put this book out into the world and for it to stay static. Moleskine put their book out in 1997 and their flagship book has stayed the same the whole time. I think that'd be a missed opportunity for us and for people who use it to see a product they love grow and develop over time.
Quartz: Here is a pocket-sized version of a Moleskine—what are your thoughts?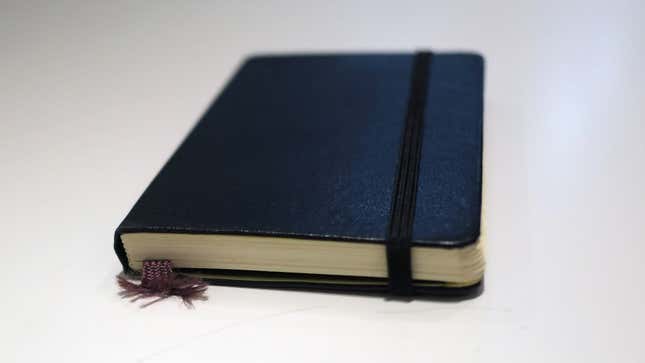 Cofone: If you check out moleskine.com, you'll see they advertise their books with zero humans, number one. And the other thing, is that they really feature visual art.
I've noticed that a lot of people, a lot of entrepreneurs, teachers, all sorts of non-visual artists, carry Moleskine and they don't do visual art in their Moleskine. So there's this separation, this disconnect, between how Moleskine is displaying their brand and how people are using them. And it's vast.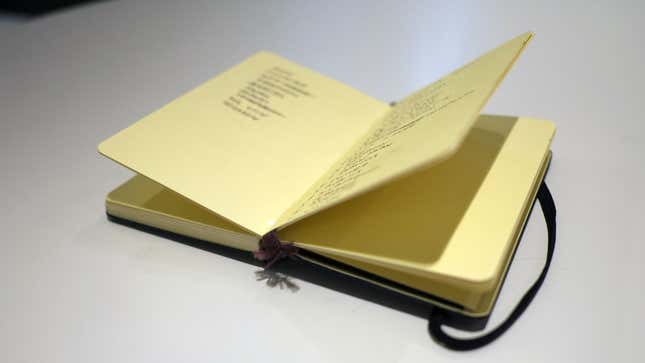 When you're displaying it a certain way then you tend to design it that certain way. You tend to appeal to that certain crowd.
Quartz: How did you decide on the size?
Cofone: Trial and error. It had to be small enough that I could throw in my bag but big enough that I could work in all day.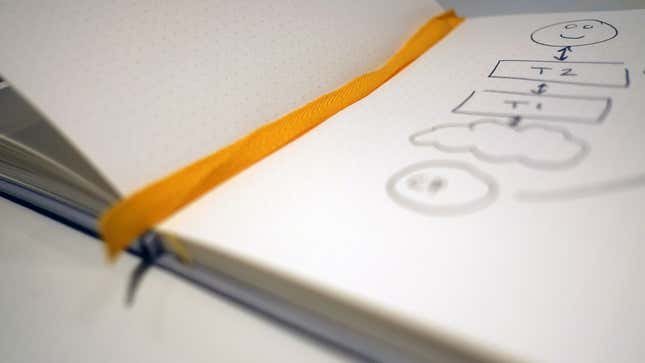 The ratio of the page is really important. I like Moleskine—they're not bad—but I greatly dislike how tall they are. When I started showing people some of the early prototypes, they would pick it up and go, 'Wow, this is wider, this is awesome.'
Quartz: Why not a book sized for throwing it in your breast pocket?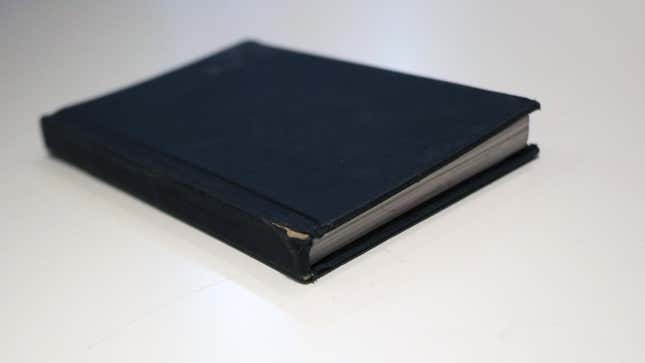 Cofone: It's definitely something we've considered. And we can only do one thing at a time being so small. But it's something we are considering. I used to have a Field Notes that I would keep in my breast pocket all the time and I love that size.
We found that the size of the Confidant is the most preferred and also the most versatile. This is something you can jot quick notes down and also use to do some more detailed work. Whereas with Field Notes, I pulled it out to take notes in it and put it back.
Quartz: Here are some books made from reused paper and other materials. Is the Confidant all-new materials? Is there any effort to create a less environmentally impacting book?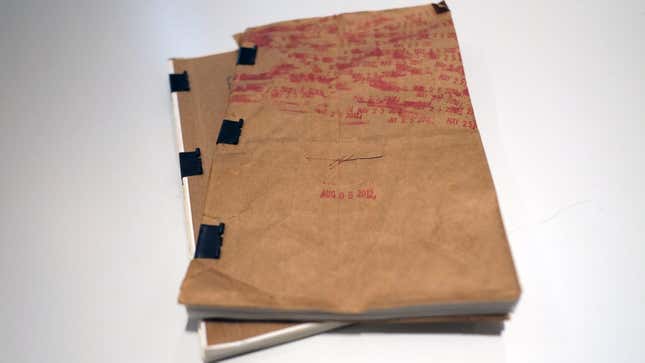 Cofone: It's not as optimized as it can be right now and that's unfortunately because we're so small we can't afford to do it the way we wish we could. We're aiming to do that as soon as it makes sense financially. So right now we just at standard environmentally impactful. It's not the best that it could be.
Quartz: Do you want to sell in stores?
Cofone: Right now, online only. I don't have a lot of interest in doing retail. It's just right now it doesn't seem that useful.
Quartz: Not that useful to you as a business, or to you in the landscape of selling notebooks?
Cofone: More in the landscape of new products. We're a tech company that sells an analog product and we want to do more technically interesting things on our website and take a step up. Right now people have no problem with e-commerce. When Moleskine launched in 1996 e-commerce was non-existent.
Quartz: If you look at books like Field Notes, they started on a similar trajectory, online only, but now you see them in stores. Is there no value in that?
Cofone: Yeah, you see them everywhere. I think there is value. But there's not a lot of interest by me or my co-founder Adam in going that route right now. The way we figure it is, if we build our site, we build our presence online that reaches as far as the internet reaches.
We have a limited amount of cash as well, so that restricts our options on how many things we can do simultaneously.
Quartz: So why not get an investor to give you more cash or have another Kickstarter project?
Cofone: I would love to just have all the time in the world, all the money in the world, and make everything I've ever dreamed of with Baron Fig. You have to first make sure what you're doing right now has your full attention and make it good, because if I don't do this right it doesn't matter.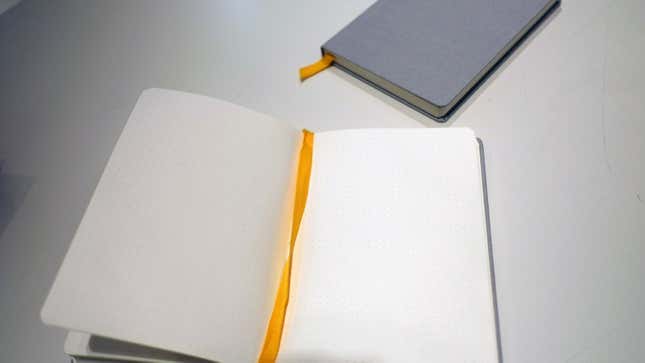 Quartz: How big was your first production run?
Cofone: With our Kickstarter we sold—in 30 days—8,760. We ordered three times that, roughly.
Quartz: Your first goal was just shipping the books people bought on Kickstarter on time. What's your next goal?
Cofone: We have a daily goal of selling X-number of books. We're just trying to figure out how to sell books now steady.
Quartz: Do you expect to sell through your inventory this year? You have about 20,000 books left?
Cofone: Yeah, I think that we're going to sell them all sooner rather than later. Maybe I'm just being positive but we're placing an order in two days for more books.
This interview has been condensed and edited for clarity