In 1996, one year before Britain's handover of Hong Kong to the People's Republic of China, prime minister John Major made a promise to the colony.
"Hong Kong will never have to walk alone," he said, adding that if China ever breached its obligations under an agreement it signed with Britain in 1984, "we would mobilize the international community and pursue every legal and other avenue available to us."
A quarter of a century later, Britain's promise to stand up for Hong Kong is being tested. On this year's handover anniversary, Beijing imposed a security law in Hong Kong that criminalizes secession, terrorism, subversion of state power, and foreign collusion, exposing millions of anti-government protesters to arrest for acts as simple as voting or waving a flag.
In turn, Britain has mounted the strongest response in Europe to Beijing's crackdown on Hong Kong. The government offered a "path" to citizenship for up to 2.9 million Hong Kongers born before the handover and their close relatives, suspended its extradition agreement with Hong Kong, and introduced an arms embargo on the territory.
Britain's reaction wasn't a given under a Conservative government unenthusiastic about immigration and mired in protracted negotiations about exiting the European Union. Then the coronavirus pandemic and escalating tensions between Washington and Beijing in early 2020 put China on the map in the UK like it had rarely been before, allowing a global network of activists to seize on the opportunity to secure political support for Hong Kong's pro-democracy movement.
The real turning point, however, came when China effectively moved, via the new security law, to end "one country, two systems," the architecture that Britain helped put in place through the Sino-British Joint Declaration to preserve Hong Kong's economic and personal freedoms after its return to China in 1997.
"All of these things have come together to create a critical mass and to open the eyes of people who understandably just wanted two systems, one country to succeed," says David Alton, a member of the House of Lords, the upper house of the British parliament, and a prominent human rights campaigner.
From Beijing's perspective, Britain's connection to Hong Kong was illegitimate and ended 20 years ago, while the joint treaty is obsolete. "One country, two systems" came with a shelf life from the start—the declaration only stipulated that Hong Kong's unique status would "remain unchanged for 50 years," until 2047. The timeline has simply been moved up in response to months of anti-government protests.
The schism over Hong Kong has "seriously poisoned" relations between London and Beijing, as Chinese ambassador to the UK Liu Xiaoming has said. And it looks set to get worse.

A Brexit government bats for Hong Kong
Protests in Hong Kong over a proposed extradition law intensified just weeks before Boris Johnson became prime minister in July 2019, but it was clear to activists involved that the issue was not a priority for Number 10, which was focused on "getting Brexit done." At that point, says Luke de Pulford, a member of the Conservative Party's human rights advisory body, "the most we could elicit from the Foreign Office was a diplomatic whimper."
Yet by the fall, Hong Kong had become a major issue in Parliament, due to the efforts of a small group of activists who "eat, sleep, and dream Hong Kong," according to de Pulford.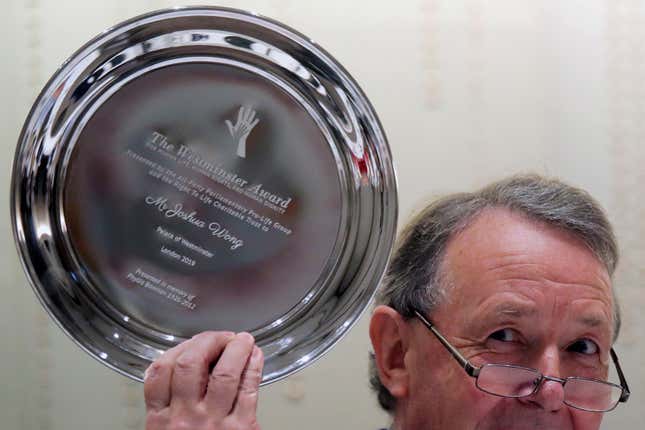 The main driver of those efforts is the nonprofit Hong Kong Watch, whose patrons include Alton and influential figures like Chris Patten, the last governor of Hong Kong. It was co-founded in 2017 by human rights campaigner Benedict Rogers, after he was denied entry into Hong Kong. The group is led by director Johnny Patterson, while de Pulford is a fellow. Over the past year, they have organized events for visiting activists from Hong Kong, collected signatures for open letters, and alternatively whipped up enthusiasm and outrage on social media.
Last summer, when an anonymous network of expatriate Hong Kongers called Fight for Freedom, Stand with Hong Kong were looking for representation in the UK, they chose public relations consultant Chris Whitehouse, who is a colleague of Alton, Rogers, and de Pulford's. Stand With Hong Kong paid Whitehouse to set up the All-Party Parliamentary Group on Hong Kong in November to compete for a voice on the issue with a cross-party lobby on China that has existed since 1997 and advocates for a more traditional form of engagement with Beijing. (Stand with Hong Kong is now at the center of a police probe for possible violations of the security law.)
These activists are power brokers in the increasingly large network of Hong Kong related groups in the UK—and they are united by more than just their interest in the former British colony. Like many of the leaders of Hong Kong's pro-democracy movement, Rogers, Alton, and Whitehouse are Catholic, and say their faith has shaped their thinking around human rights.
With his social media savvy and connections in the Conservative Party, de Pulford in particular stands out as an effective communicator for Hong Kong in the UK. His ties to Hong Kong are personal; his mother lived there in the 1960s while his grandfather worked with the Hong Kong police force as a British Army officer—a connection he acknowledges is "highly ironic," given that he just launched a private prosecution against British members of the Hong Kong police force for alleged human rights violations. Before last year, de Pulford almost never tweeted about Hong Kong. Now on a typical day, he fires up his Twitter account at around 8am and calls out UK institutions and politicians for their inaction on the issue until nightfall. One recent video showed his young daughters calling on Hong Kongers to vote in July's democratic camp primaries.
In early 2019, Hong Kong Watch zeroed in on the status of British National (Overseas) passport holders as a way to move the needle on Hong Kongers' rights. "BNOs," as they are known, are Hong Kong residents who obtained passports from Britain before the handover that entitled them to some diplomatic protections but not the right to settle in the UK.
The Foreign Office had previously argued that changing the status of BNOs would run counter to Britain's obligations under the Sino-British Joint Declaration, and foreign secretary Dominic Raab and home secretary Priti Patel reportedly disagreed on what to do about them. "The Home Office was in favor of some kind of scheme for Hong Kongers and the Foreign Office was not," de Pulford explains. The Foreign Office did not respond to a request for comment, while a Home Office spokesperson said, "the government is committed to fulfilling its moral obligations to British Nationals Overseas in Hong Kong."
Armed with legal advice from the Hong Kong International Arbitration Centre, a nonprofit legal institution, Hong Kong Watch lobbied Raab and Patel. The idea was that Britain owed safe haven to Hong Kongers, a people they colonized for more than a century after defeating the ruling Qing dynasty in the Opium Wars. In Hong Kong, protesters too appealed to history, waving the Union Jack and rallying in front of the British consulate.
A strong belief took hold in Westminster that the UK has "a moral and legal duty" towards Hong Kong "that no other country in the world has," says Alicia Kearns, a Conservative lawmaker who sits on the House of Commons foreign affairs committee.

"A typhoon of anti-Chinese thinking"
When Johnson became prime minister, he said he would be "pro-China" and put economic ties with Beijing at the center of his "global Britain" plan. The decision to criticize China's actions in Hong Kong has damaged that plan—but the move is pragmatic as much as it is idealistic.
The Trump administration, keen to see Britain pick a side in its trade war with China, has dangled the prospect of a post-Brexit trade deal as an incentive, emboldening UK hardliners who want a US-style "decoupling" from China. Some are also calling on their government to follow America's lead in imposing sanctions on Hong Kong officials.
At the same time, Covid-19 has been a PR nightmare for Beijing, whose ambassadors aggressively went after journalists and governments who criticized China's handling of the pandemic. Under pressure from Conservative lawmakers like Tom Tugendhat, head of the recently formed China Research Group (paywall), and former Conservative leader Iain Duncan Smith, London announced in July it would ban Chinese telecom equipment giant Huawei from its networks.
David Howell, a peer in the House of Lords, worries that anti-China hardliners both in and out of Parliament have created a "typhoon of anti-Chinese thinking" through "megaphone diplomacy and chest-beating." His advice: "Take a breath." Otherwise, Howell warns, "they could find that some of the consequences could be ones that we could greatly regret."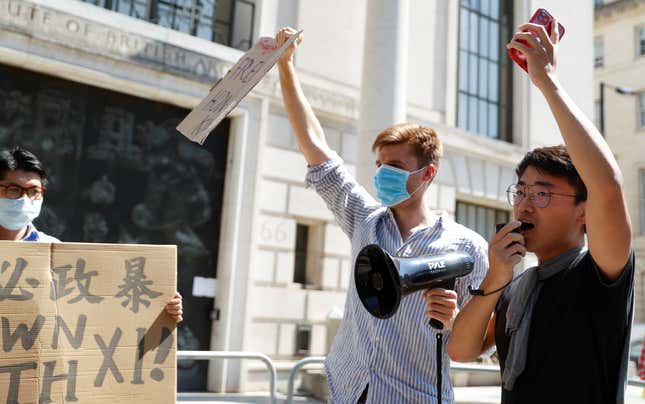 But efforts against Beijing are only likely to gather steam with the arrival in the UK of activists-in-exile. Last month, the UK gave asylum to Simon Cheng, a former employee at the British consulate in Hong Kong who was held and allegedly tortured on the mainland on suspicion of playing an organizing role in the protests. Already, Cheng has spoken of setting up a parliament-in-exile in the UK. And Nathan Law, a key figure in the pro-democracy movement who fled Hong Kong to avoid arrest under the security law, sees Britain as a strategic base for advocacy in Europe, which he believes is the next battleground.
As recently as a year ago (link in Chinese), Law wrote on his Patreon account that "it would be a waste for Hong Kongers to rely on the UK to speak up." Now, he and others see Britain at the heart of the campaign to turn the pro-democracy movement into "an overseas force that cannot be ignored."