Sina Corp's micro-blogging Weibo unit—China's version of Twitter—plans to raise a mere $500 million with its Nasdaq IPO, a small sum compared with other recent tech public offerings. That's partly because Sina will maintain majority control, and Alibaba, its corporate ally, will keep a hefty stake too. But China's pervasive meddling with the internet is also having a tangible effect on Weibo's valuation.
As Quartz has reported, the company's IPO filing, submitted on March 14, contains many lengthy passages about how failing to adhere to China's censorship laws could hurt its business:
[I]nternet content providers and internet publishers are prohibited from posting or displaying over the internet content that, among other things, impairs the national dignity of China, is reactionary, obscene, superstitious, fraudulent or defamatory, or otherwise violates PRC laws and regulations. [emphasis added]
As for the consequences, the company says that "the failure or perceived failure to comply may result, and in some cases has resulted, in inquiries and other proceedings or actions against us by government agencies."
This is no mere hypothetical: In 2012, comments on Sina Weibo posts were shut down by the government after (false) rumors about a possible Chinese coup d'etat started spreading. The company notes the incident in its filing, explaining that "we had to disable the comment feature on our platform for three days to clean up feeds related to certain rumors."
China's other internet firms are also subject to some of these government restrictions. But Sina Weibo, as the country's most prominent public venue for commenting on current events, has been the most vulnerable to interference, especially the government's crackdown on Weibo celebrities known as "Big V" users.
So how much might this be costing the company when it comes time to sell shares? The filing contains new user data that make it possible to compare the company's per-user valuation to that of Twitter, which is the service and business most similar to Weibo.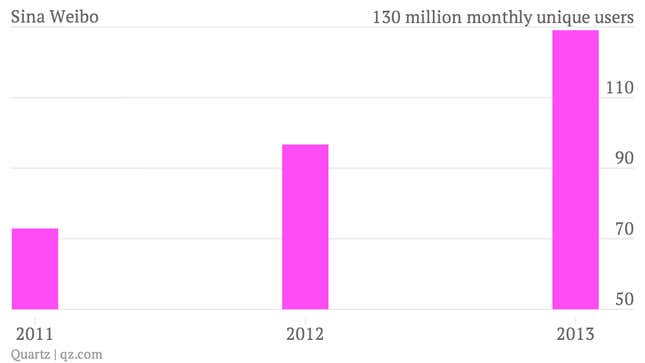 Based on a projected valuation of $7 billion (as reported by the Financial Times), Weibo's 129 million monthly active users (MAUs) are each worth about $52. Twitter, meanwhile, has 241 million MAUs, and a market cap of $30.6 billion, which means each user is worth more than $126.
The gap isn't wholly attributable to Beijing's interference—Twitter's advertising business is much more well-developed, for one thing, and Weibo faces a considerable threat from Tencent's rival WeChat service. And Weibo's user base probably has, on average, a lower level of income than Twitter's. But every major government crackdown on Weibo—requiring the use of real names, targeting the "Big Vs," passing laws against spreading internet rumors"—has resulted in a decrease in user numbers, which directly impacts the company's advertising revenue.

"If the Chinese government decides to restrict the distribution of information via Weibo or online postings in general, Sina's online business could suffer in a number of ways," Morningstar analyst Yue Yao wrote in a research note last month, "including diminished website traffic, or the inability to adequately monetize services or brand equity."
Check out a selection of the many governmental pitfalls listed in the filing's risk section:
Regulation and censorship of information disseminated over the internet in China may adversely affect our business and subject us to liability for information displayed on our platform.

We are required to verify the identities of all of our users who post on Weibo, but have not been able to do so, and our noncompliance exposes us to potentially severe penalty by the Chinese government.
We may have to register our encryption software with Chinese regulatory authorities, and if they request that we change our encryption software, our business operations could be disrupted as we develop or license replacement software.

Regulations on virtual currency may adversely affect our game operations revenues.

Uncertainties in the interpretation and enforcement of PRC laws and regulations could limit the legal protections available to you and us.

We may be adversely affected by the complexity, uncertainties and changes in PRC licensing and regulation of internet businesses.
A bet on Weibo's IPO is as much a bet that China's government won't mess with it.