BT Conferencing is bringing Dolby Laboratories' object-based sound, which played a prominent role in the Oscar-winning Gravity, into your business meetings. The two companies first released a conference-call service with similar Dolby sound engineering in 2013, but announced Friday that the service will expand to include a mobile app and a fully integrated conference phone.
Why using it is like taking a trip to the movies:
Dolby's big moves in 2014 are all based on one idea: Tricking your brain. In movies like Gravity, the Dolby Atmos sound system separates soundtracks into loads of signals. In traditional surround sound, many speakers will play the same audio. And much of that audio will be squished into one signal. In other words, the sound of footsteps running down the hall could come in the same blast of audio as the foreboding shriek of a violin. With Atmos, the footsteps could come from speakers above you, moving towards the front of the theater as they go. The violin would be just as audible, but from another point in space.
When you use BT and Dolby's platform with headphones the effect is similar—voices come through as separate sounds. If you don't think that sounds novel, you should go check out a demo. The new conference system, available later this year, will replicate this effect straight from a speaker, no headphones required. The voices of your colleagues will seem to come from all around the room, remaining separated even when two or more parties speak at once.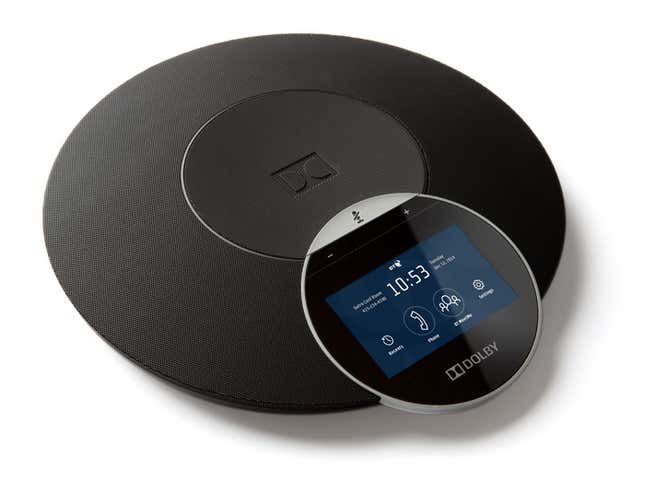 "On a traditional telephone," Andrew Border, vice president of Dolby Communications, told Quartz, "all the voices are mashed into one signal and squirted into one ear. That's not how you hear in real life." And by replicating real-world sound, he says, Dolby believes its system can make you more productive.
How it works:
"We're Dolby, so of course there's a lot of emphasis on the richness of the sound," Border says. The noise isolation, he says, theoretically would allow you to run a successful conference call from even the noisiest location. "But we've also applied the science of how people hear, and how the brain interacts with sound."
Their logic is that wasting time figuring out who's talking—however unconsciously—causes brain drain, hindering your ability to focus on the actual conversation. "If people in the conference room are having a lively, natural conversation," Border says, "Then the people on the phone are left struggling to keep up. On the other hand, if they try to include you, it becomes really stilted and unnatural. We want to take away those two extremes of behavior. Right now, the person talking loudest is the one you hear. On our system, if two people are having a side conversation—rude as that is—you could tune your attention to either them or the main speaker."
Dolby even claims that the technologt makes you more productive during the meeting, though the study it ran to back up the theory was pretty small.
The system isn't cheap. Getting Dolby sound costs an additional 10-15% over the usual service from BT (a UK-based telecom company) and the conference phone will cost around $1,600 up front. But if nothing else, the platform should avoid some of the awkwardness of a traditional conference call.