European car sales are revving up, yet another sign that the region's economy is steadily recovering. Passenger car registrations in the EU rose by 8% in February, the sixth consecutive monthly increase, according to data released today.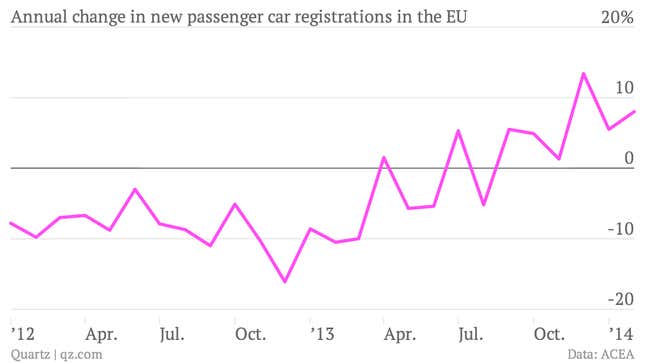 The standout performer was Portugal, where February auto sales surged by 40%. Sales from Spain to Sweden to Slovakia also recorded double-digit percentage gains.
But as with so many other indicators, the news from France bucks the overall positive trend. France's February sales were the weakest in the EU, falling even faster than in the shell-shocked Cypriot economy, where capital controls make big-ticket purchases, like cars, difficult. France's largest domestic carmaker, PSA Peugeot Citroën, saw February sales rise by nearly 4%, but it continues to lose market share to rivals that are boosting sales even faster.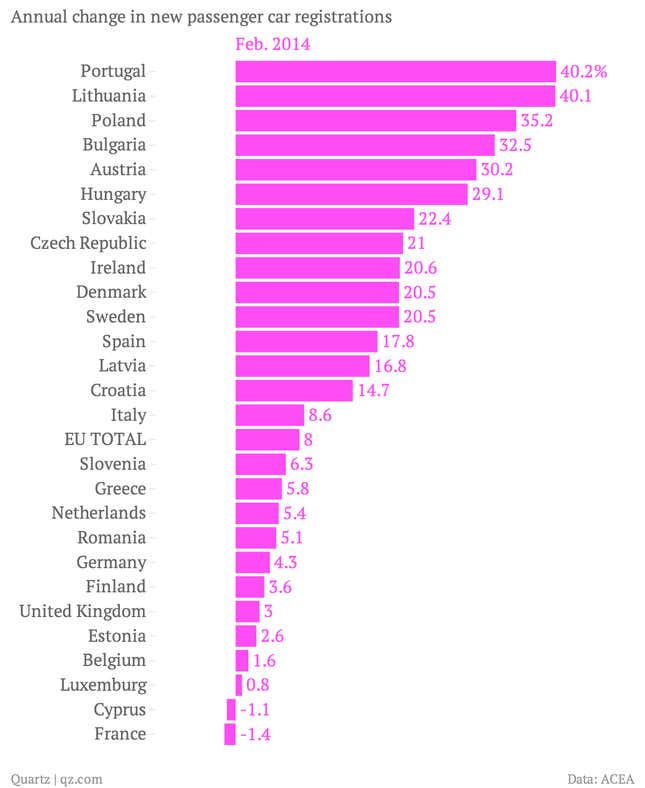 In recent months, gaudy growth figures, such as the ones published today, have reflected the low bases for comparison as much as genuinely strong economies. As the chart below shows, in many countries new car sales are still far below what they were in the same period in 2008, a high-water mark just before the financial crisis hit. In only a handful of smaller EU members have they surpassed pre-crisis levels.