From a spare bedroom and a nook under the stairs, to a backyard shed or a repurposed dining table, the millions around the world who are new to working remotely are having to reassess their living quarters to make room for a viable work surface.
The scene we glimpse on video calls is just a sliver of the action. In reality, most home offices are less picture-perfect, despite what design catalogs or enviable vignettes on Instagram suggest. Cropped out of frame are the tangles of wires and extension cords, baskets of laundry to be folded, and growing pile of homeschooling paraphernalia kids accumulate. Things get especially tricky when several family members share a small space and one internet connection.
Designers recommend installing curtains, floor screens, doors, or even working in a closet to delineate a barrier from the rest of our lives. But by virtue of its location, personal matters always tend to show up unannounced. Working at home is essentially like working in the most extreme open plan office—prone to the cacophony and clutter we once complained about when we were actually sitting at a proper desk in the office.
It takes work to set up a space that's conducive for working. Many choose to work in front of a window for a mind-clearing view of the outdoors, not to mention flattering light for video calls. Some have motivational objects on their desk, like Quartz's science editor Katie Palmer who has has a spice rack in her line of sight. And of course there's the fascinating gamut of seating, from exercise balls, folding chairs to under-the-desk bikes.
Here's a peek at the many ways our readers and colleagues are making it work.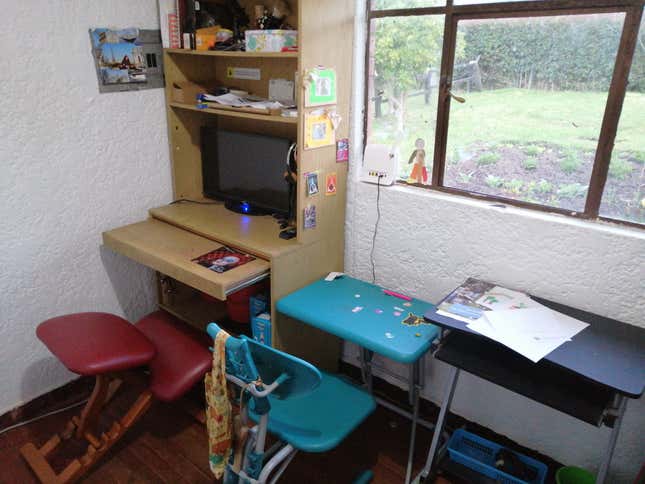 The only hack I developed is to place my desk facing the window to my orchard so I can have a moment to recharge every now and then. I also placed both of my kids beside me so I can assist them while I work. Besides that, I started bullet journaling which I found to be a great task and calendar technique. Also, I have a thermos full of coffee besides my desk.—Rafael Alejandro Nieto Roca, Bogota Colombia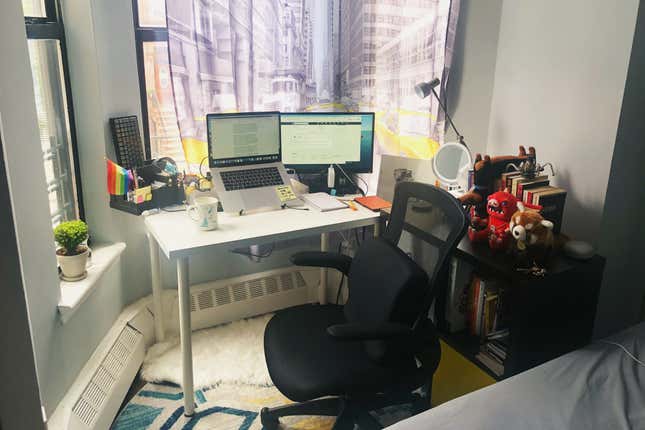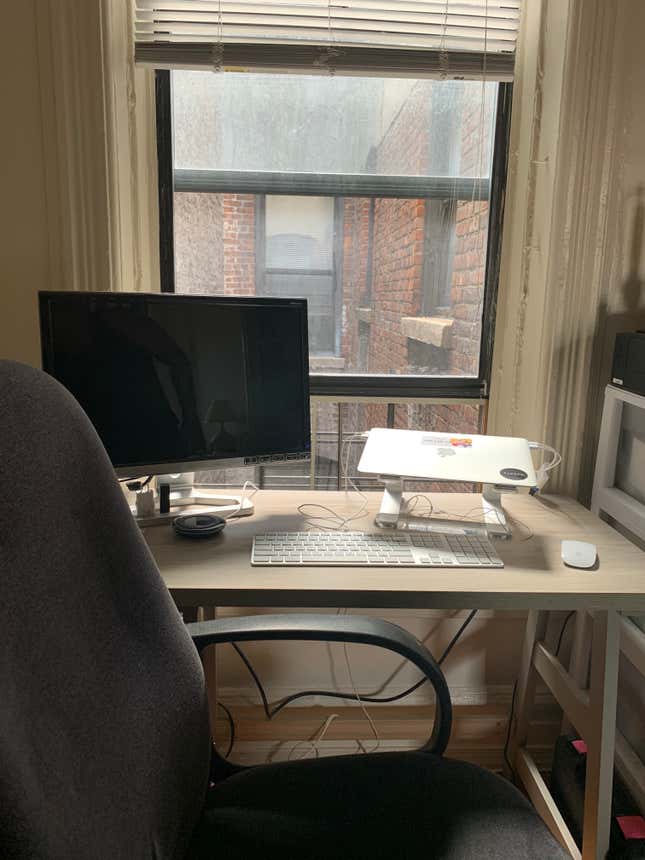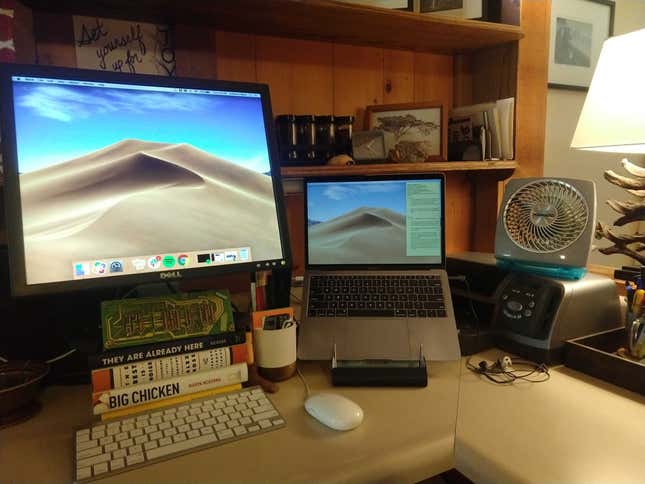 I added the little rack of spice jars filled with tea this week, keeping it in my line of sight to remind myself to do something healthy in the afternoon instead of more coffee.—Katie Palmer, Quartz science editor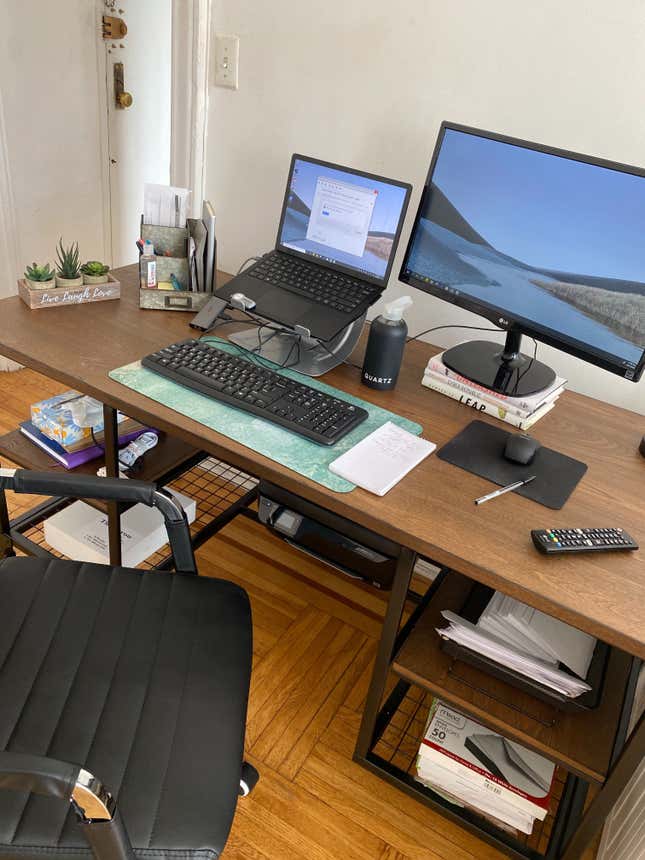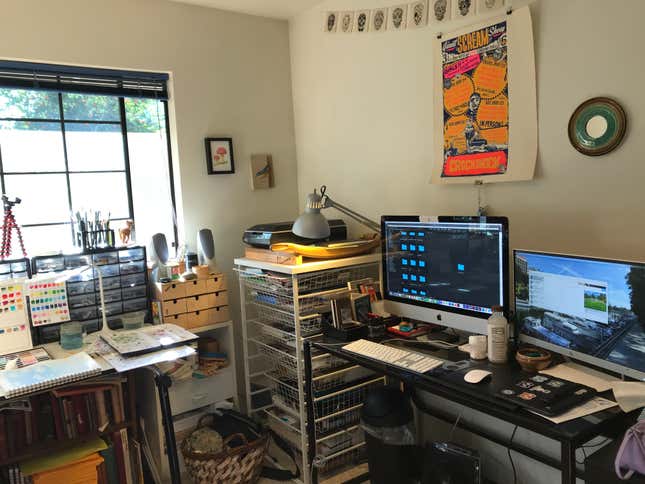 My little home office is my favorite place in the world. It's packed with art supplies, books and miscellaneous distractions. It includes modern gear like a high-res scanner and old-school stuff like a vintage paper cutter and crow-quill pens. It looks messy and cluttered, but it's actually super organized—well, in my eyes! Behind my computer is a signed poster by Art Chantry, the king of Seattle music poster design, but the rest of the art is my own. My drawing table faces the window that looks out into the back yard, so I can see lots of trees and hear wind chimes and the neighbor's chickens all day…My cat has a little bed next to my desk where she spends most of her work days. My husband and I joke that she's our manager; she lets us know when we're off (her) schedule.—Sonya Reasor, Seattle, Washington