US president Barack Obama and Europe's heads of state yesterday sought common ground on new ways to rebuke Russian president Vladimir Putin for annexing Crimea. But they appeared only vaguely if at all aware that they have already won an important skirmish in the West's centuries-old friction with Russia.
The victory is in what's known as pipeline politics. For almost two decades, the West and Russia have waged a contest for mastery over a vast swath of the Eurasian continent stretching from Central Asia into Europe. The Russian goal has been to dominate the export of oil and especially natural gas across the region. The West, viewing gas as a Russian political instrument, has sought to break Moscow's hold on the market.
In 2006, the West won the first battle of the pipeline war when the 1,000-mile Baku-Ceyhan pipeline began to carry Azerbaijani oil to the West, thus shattering Russia's oil stranglehold on the Caspian Sea. At once, both Central Asia and the Caucasus could export oil through a non-Russian pipeline.
Smarting at the US-led coup, Putin won the next skirmish five years later with Nord Stream, a 750-mile-long natural gas pipeline across the Baltic Sea to Germany. Nord Stream allowed Russia to skirt Ukraine and Poland—with which Russia has had prickly relations—and get its natural gas directly to Europe. At a time the West had begun to worry about Russia's natural gas dominance in Europe—supplying more than 30% of the continent's gas—Putin had deepened his grip there.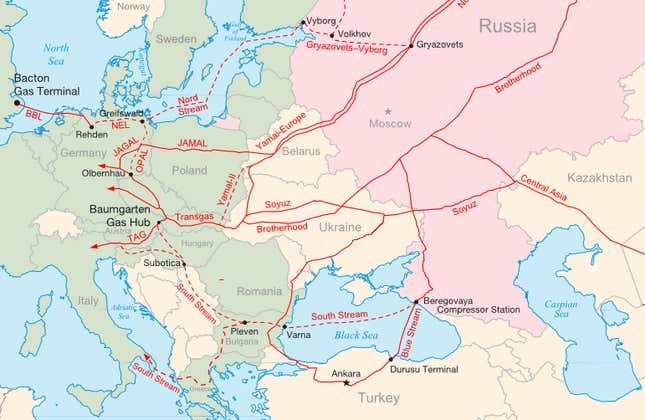 With the score tied 1-1, Gazprom proposed to further cement its hold with the 1,500-mile-long South Stream, another pipeline to Europe, skirting to the south of Ukraine. The proposal was a direct response to Nabucco, a US-backed pipeline originally intended to link Central Asia with Europe, thus killing Russia's gas transportation monopoly on the 'stans and reduce its market hold in Europe.
Last year, Russia appeared to win this round when Nabucco died; BP elected to back the construction of a different proposed export pipeline out of Azerbaijan, one ending in Greece and having much less geopolitical muscle. That left the field to South Stream. Score: Russia 2, West 1.
But statements in recent days by leading Europeans suggest that South Stream is on its death bed, too, a victim of Putin's Crimean adventure. On March 20, Paolo Scaroni, CEO of Italy's ENI, called South Stream's future "somewhat gloomy." Scaroni—among Putin's closest corporate allies in the West—suggested that regulators in some of the European nations through which the line must pass are unlikely, at least for now, to issue needed permits. Two weeks ago, Gunther Oettinger, the EU's energy commissioner, said he is freezing regulatory talks on South Stream.
So the pipeline politics score is now even. But there are two wild cards that could break the tie: events in Iran and China.
Europe seems intent now on finding new natural gas supplies to diversify away from Russian gas, but these appear to be years away. An outcome that would favor the West would be a political settlement with Iran, which possesses the largest natural gas supplies on the planet; a deal could allow Iran's reserves to be more fully developed at last. Conversely, on the Russian side, Gazprom might finally sign a natural gas supply deal with China, a contract that has been on hold over pricing. Considering the new politics in Europe, Putin might see fit to lower his prices to meet Beijing's demands.