Chinese citizens, furious with Malaysia's bungled handling of the missing Malaysia Airlines plane, are canceling their vacation plans, encouraged by celebrities like Chinese actor Chen Kun, who called for a travel boycott of Malaysia. Travel agents in China say bookings have already dropped 50% in the last two weeks, compared with the same period a year ago.
"Malaysian tourism is now nearly at a standstill," Ge Lei, the general manager of China CYTS tours said in a statement (link in Chinese), announcing it would cancel a partnership with Malaysia Airlines. "We never thought of boycotting Malaysia or Malaysian tourism, but consumers feel insecure traveling with Malaysia Airlines, so we need to respond to consumer demand."
Even the Malaysia government is reluctant to promote the country as a destination right now. Tourism Minister Datuk Seri Mohamed Nazri Aziz told parliament this week the ministry has cancelled a high-profile "Visit Malaysia 2014" campaign intended to draw in 28 million visitors, "until the aircraft is found"—which could be a long time, given the remote and difficult-to-search area of the southern Indian Ocean where the plane is believed to have gone down.
The country's government tourism website shows this message: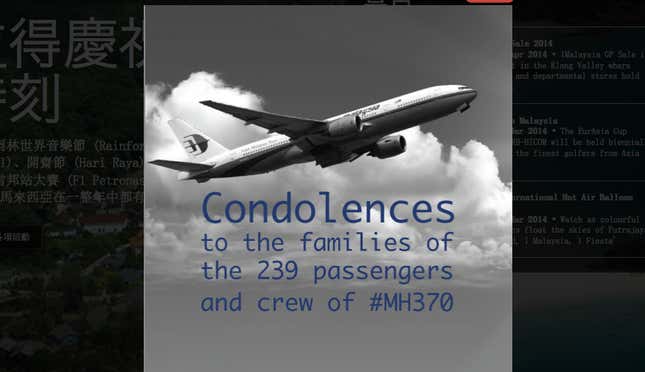 A growing tourism industry contributed some 49.4 billion Malaysian ringgit ($15 billion) to the country's gross domestic product in 2012, the last full year figures available: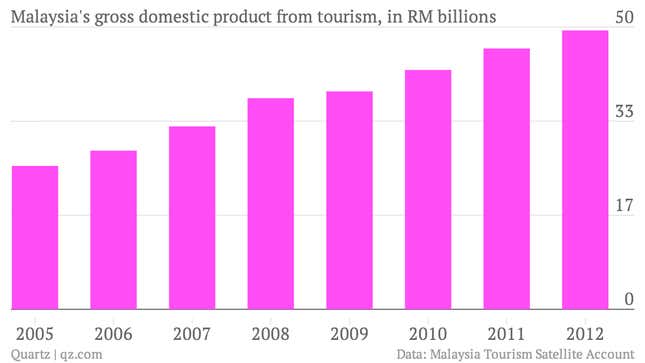 That figure is just 5.3% of the country's total GDP, up from 4.7% in 2005, which means a sharp downturn wouldn't have a massive overall impact on the economy. What's probably more important than the ultimate contribution to GDP is the sector's contribution to employment.  Tourism provided 16.4% of Malaysia's overall employment in 2012, up from 15% in 2005, and employment in the sector has grown steadily.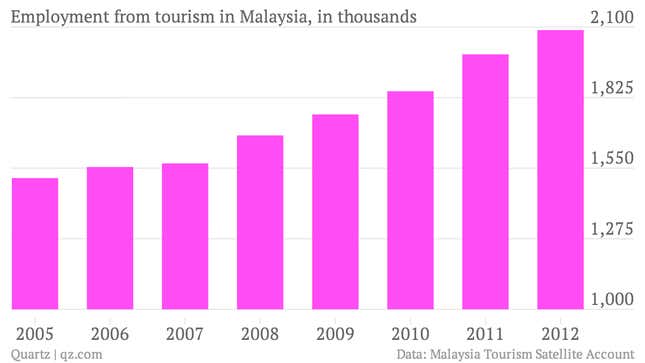 Malaysia's unemployment rate of 3.4% is low by global standards, but has risen significantly in recent months, in part critics say because the current administration has done little to make "difficulty, dirty and dangerous" jobs in sectors like construction safer or more lucrative, and Malaysia controversially imports workers to do these jobs instead.
Tourism jobs, on the other hand, are generally neither of the three, and any long term downturn in the sector would be keenly felt by Malaysians.
Jennifer Chiu contributed reporting to this article.