In the lead-up to its blockbuster IPO (expected to be the biggest since Facebook's), Chinese e-commerce giant Alibaba has been on quite a shopping spree, shoring up its fortifications against assault from internet rival Tencent. Now it's getting into malls, spending $692 million for a 26% stake in Intime Retail, a department store operator that will help the company reach people who prefer to do their shopping the old-fashioned way.
Unlike Facebook, which has been frantically snapping up businesses that might one day become the future of technology, Alibaba has been mostly buying into industries that have been around for years, if not decades.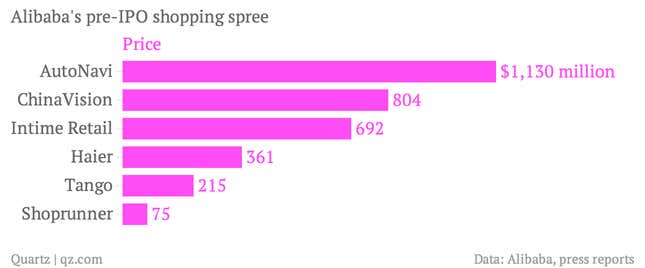 In the last four months, Alibaba has bought stakes in mapping company AutoNavi, the appliance and logistics company Haier, the film and TV studio ChinaVision, the messaging app Tango, and the Amazon e-commerce competitor Shoprunner. Tencent has similarly bought stakes in a Yelp-like service and an online retailer.
In the same time frame, Facebook has acquired the virtual-reality hardware maker Oculus Rift, staff from solar-powered dronemaker Ascenta, and the mega-popular messaging start-up WhatsApp. Google, for its part, is buying military robots, building driverless cars, and launching high-altitude internet blimps.
The comparison is striking: In China's relatively young internet sector, major players like Alibaba are buying relatively stodgy old companies. Meanwhile, in the relatively mature US internet sector, major players like Facebook and Google are placing bets on dynamic and fast-developing future technologies.
As New York-based venture capitalist Fred Wilson wrote last week: Facebook got "to a good place on mobile (and that's what the $19bn WhatsApp buy was all about). And now Zuck and his team are looking up and saying 'what's next?' It's not that different from what Larry Page and his team are doing at Google."
One key difference, of course, is that China's internet sector has not had time to develop into the same kind of oligopoly as in the United States, where Facebook, Google, Apple, Amazon, and Microsoft each reign supreme in well-defined niches, albeit with many areas of overlap. In China, as Quartz has reported, Alibaba and Tencent (and, to a diminishing degree, search engine firm Baidu) are conducting an all-out war for supremacy.
Maybe when Alibaba or Tencent is eventually victorious, or when the firms have fought to a draw, their focus will shift to forward-looking bets on fanciful future technology. But until that day, which is years away at the earliest, expect a lot more deals like today's shopping mall splurge.