Chinese authorities have seized $14.5 billion in villas, cars, art and other assets owned by those with close links to former security chief Zhou Yongkang, the most powerful Chinese official to be targeted for corruption in over 60 years. Authorities have seized about 300 apartments, luxury liquor, antiques, silver, gold, and cash in both in yuan and foreign currencies, as well as local and overseas bonds and stocks.
As we've reported, Zhou once held one of the highest positions in the party, where he increased spending on public security to surpass that of even the Chinese military. He has been the reported target of a high level anti-corruption investigation personally overseen by chairman Xi Jinping. Zhou hasn't been seen in public since late 2012, when he retired.
But going after Zhou isn't just the latest front in Xi Jinping's campaign to take down the corrupt high-level officials known as "tigers," as well as lowly "flies." The investigation of Zhou is also about political retribution. And the recent targeting of his staff, allies, and family members may be a warning shot to anyone considering allying with those that oppose Xi.
Zhou opposed the ouster of Bo Xilai, the former party secretary of Chongqing who was on track to join China's powerful standing committee, possibly as the next head of domestic security. The figure of Bo, now in prison, still looms large over the party among those who support his approach to governing. He was a charismatic official with populist appeal who championed more state control of the economy, in direct contrast with some of the economic reforms Xi wants to implement.
Now, virtually anyone with connections to Zhou is at risk. Over 300 of Zhou's relatives, political allies, staff and other associates have been detained or questioned over the past four months, according to Reuters, which cites two unnamed sources who had been briefed on the investigation. That includes about 10 officials who rank as high as vice minister—as well as over 20 of Zhou's bodyguards, drivers, and other staff. ChinaFile and Foreign Policy have translated this graphic (paywall) that maps out the web of Zhou's connections: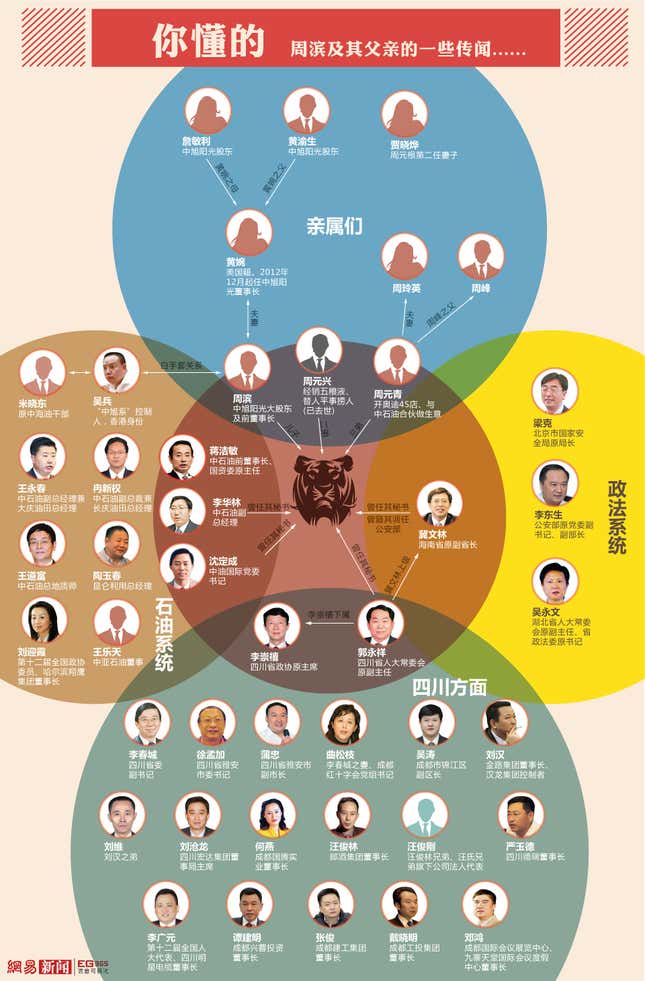 This crackdown is a risky move for Xi, who is still consolidating power over the party. He has broken an unspoken rule that retired members of the powerful Standing Committee, also known as party "elders," are not to be investigated. Putting Zhou on trial could further distance a public that's already weary of the party's show trials and corruption cases. Bo Xilai's trial, for instance, galvanized his supporters, some of whom demonstrated outside of the courthouse. Even former president Jiang Zemin, who has been supportive of the corruption crackdown, has reportedly cautioned (paywall) Xi against going too far.
Zhou, as a former member of the standing committee and domestic security head, was privy to many backdoor dealings, and could well have damning information about other party officials. If he's about to go down, he just might try to take the party with him.