We already knew that US banks are facing a pretty rough first quarter, with a slowdown in fixed income currencies and commodities units–known as FICC. Trading FICC instruments, such as derivatives, bonds, and currencies, has historically been a big revenue-driver for banks, but trading volume in that area has significantly retreated in the face of new regulatory scrutiny.
Now recent data from Inside Mortgage Finance, a trade publication, indicates that the home loan market has experienced its worst quarter in nearly a decade and a half. In the first three months of the year, mortgage origination amounted to $192 billion, according to Inside Mortgage Finance. That's 26% down sequentially from the fourth quarter of 2013, and 60% down from the first quarter of 2013. The origination numbers were the weakest seen in the first three months of the year since 2000, when total home loan volume for the quarter was $122 billion.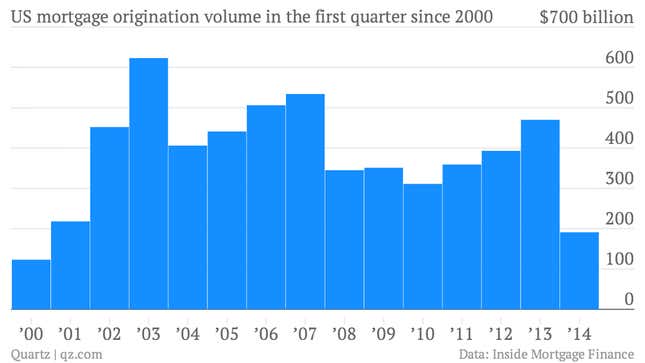 Lackluster mortgage production has implications for the big US banks, which feasted on a refinancing boom that helped fatten profits in the wake of the 2008 crisis. With interest rates hovering around historically low levels over the past several years, big banks have been making good money bundling these home loans and selling them to institutional and private investors.
But mortgage rates have jumped sharply higher since last May, when the Federal Reserve first suggested it could gradually start to reduce its support for the US economy. That has translated into weaker mortgage volume. And for the banks, that means weaker fee revenue. It also puts a dent in bank trading activity, since mortgage bonds (or mortgage-backed securities, as they are known in financial circles) have represented a healthy chunk of typical banks' overall trading activity.
Early signs of what bank trading might look like already are out, ahead of the first-quarter reports due in a couple of weeks. Reporting its results earlier than other large investment banks, Jefferies Group, which was acquired by Leucadia Capital nearly two years ago, said its fixed income trading revenue was down by about 19% in the first quarter. Jefferies' overall trading volume, including stock trading, was down by by 8.6%. These results fall in line with what's expected from other larger institutions, including JPMorgan Chase and Citigroup, which also have been telegraphing their trading weakness since the start of the year.
It's significant that banks are forecasting a tough start to the year, because typically financial institutions generate their strongest trading revenues in the first or second quarter. That's because large pensions, mutual funds and hedge funds make their investments at the start of the year. Fund managers tend to be more conservative later in the year.
So a bad first quarter for banks doesn't bode well for the rest of 2014.