Seemingly out of nowhere, technology stocks have started selling off hard. Despite a solid report on US jobs Friday, hot US technology companies such as Netflix, LinkedIn, Facebook, and Twitter limped into the weekend. Here's weekly performance for some selected stocks.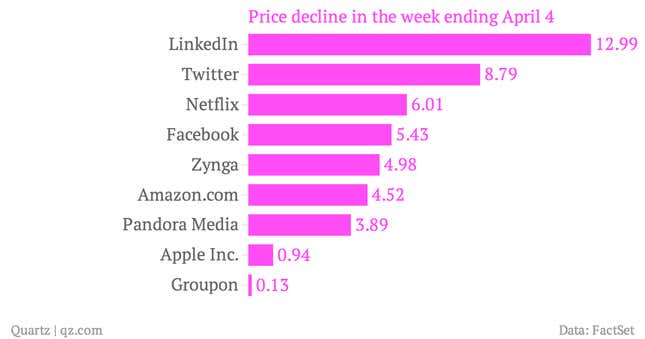 So what's going on here? No one seems to know. The broad S&P 500 stock market index was up about 0.4% on the week. Economic data wasn't especially terrible. There was no major news out of the Federal Reserve, which has put policies in place that many credit for driving stocks higher.
No, it just seems that Mr. Market is rethinking his previous enthusiasm on tech shares. And probably for good reason. These stocks had run way ahead of the market. One month ago, Netflix was up 24% on the year. (Now it's down 8.4%.) Twitter has had an especially rough year, falling nearly 32%, though that was largely driven by weak results last quarter.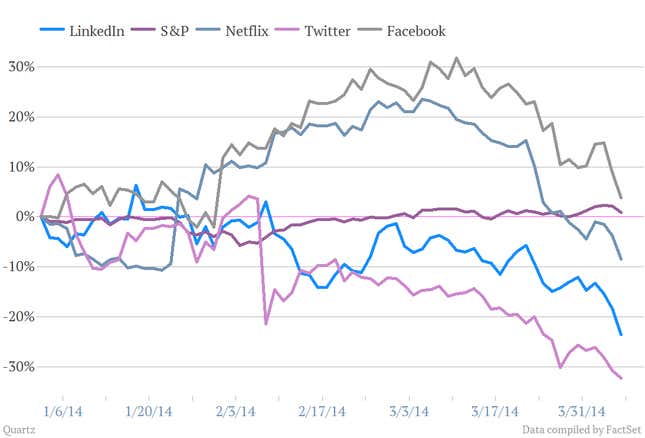 So is there any lesson to be taken away from the tech stock drubbing? Yes.
For one thing, it feels like an old-fashioned shift of market sentiment. And importantly, it isn't being driven by a financial crisis or a major intervention of a central bank or a problem concocted in Washington. And on a day where the US private sector job market actually clawed out of the pit left by the Great Recession, it might mean that the market is getting ready to move out of post-crisis mode.
That would be a very big deal. It would also likely mean a lot of things that went up for little good reason could be about to come back to earth.