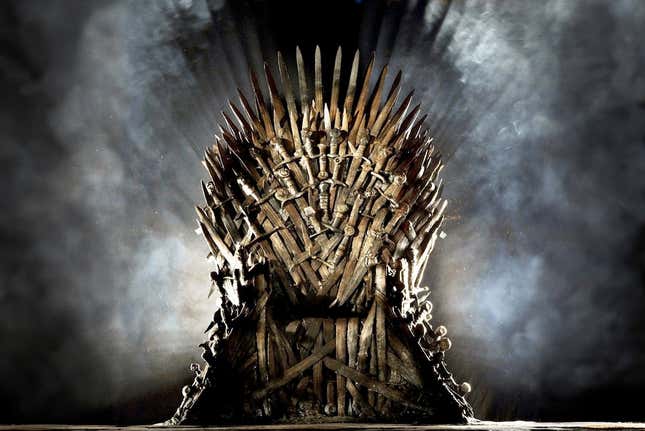 The season premiere of Game of Thrones was HBO's most-watched program since the series finale of The Sopranos in 2007. And it will soon earn another distinction: the most-pirated TV episode of all time.
More than a million people downloaded illegal copies of Game of Thrones's fourth season premiere in the first 12 hours after it aired on HBO, according to TorrentFreak. Another estimate, by consulting firm Excipio, suggested that piracy of the episode surpassed the third season premiere of Game of Thrones, which was the previous record holder.
Jeff Bewkes, the CEO of Time Warner, which owns HBO, has said Game of Thrones's distinction as the most-pirated television show in the world is "better than an Emmy." (It has a few of those, as well.) But rampant piracy has to concern the company, if those viewers can't be converted into HBO subscribers, which number 114 million worldwide.
Game of Thrones is a prime target for piracy because, in most countries, it can only be viewed by TV subscribers who pay an additional fee for HBO. In Australia, the show is exclusive to cable operator Foxtel, so it's perhaps no surprise that the country leads the world in downloads of Game of Thrones torrents.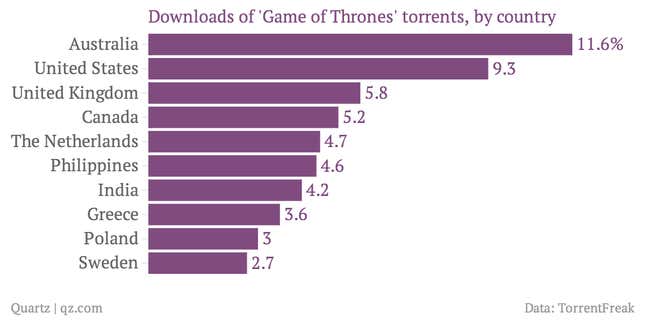 Some extra piracy of the Game of Thrones premiere may have resulted from the failure of HBO Go, its internet streaming service for subscribers, which crashed amid what the network called "overwhelming demand." Meanwhile, 6.6 million households legally watched the show's first airing live in the United States. HBO is also making the episode freely available to Microsoft Xbox users. The premiere of another HBO show, Silicon Valley, is free on YouTube.