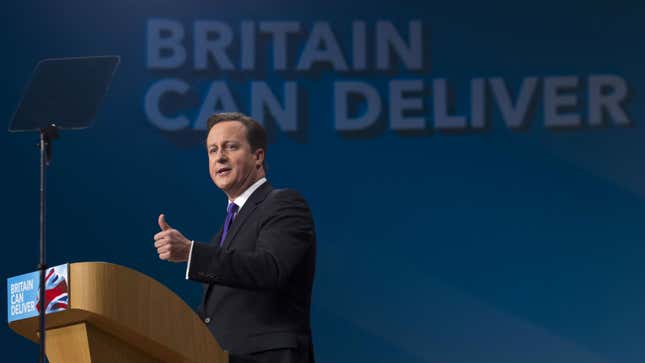 Cheers, cheers, everyone!  Today, Britain announced an end to its longest double-dip recession since the second world war.
Official statistics showed 1% growth for the latest quarter, beating forecasts. The rise is the biggest in five years and ends months of economic contraction. In the previous quarter, the UK economy shrunk by 0.4%, and 0.3% in the first. (Economists define a recession as at least two consecutive quarterly contractions). Today's numbers end nine months of continuous contraction.
So, why isn't anyone breaking out the bubbly?
Experts says the economic boost is largely due to two one-off factors: The London Olympics accounted for a fifth of the quarterly increase, according to official statistics. Also in the mix was an economic rebound from an extra public holiday—a day to celebrate the Queen's diamond jubilee—in the second quarter.
The reality is that serious underlying conditions have not disappeared—such as weak manufacturing, construction, and energy sectors. (paywall)
The news doesn't change forecasts calling for flat growth this year, and modest growth the next—dragged down by the continuing eurozone crisis.
Here's what else some experts, and one prominent politician, had to say:
Alan Clarke, an economist at Scotiabank, said:
There's now a good chance the economy won't actually contract on average for this year… It'll probably be flat and, in the context of monetary policy, it reinforces the case for the Bank of England to pause on quantitative easing.
Azad Zangana, an economist at Schroders, said underlying growth after stripping out the one-off factors was probably more like 0.3%, adding (paywall):
That is not strong enough to shield the UK from the external risks that partly contributed to the latest recession. In our view, the UK remains at high risk of a 'triple-dip' recession in 2013.
Not surprisingly, UK Prime Minister David Cameron jumped in to say all of the right things:
There's still much more to be done, there is a long road to travel, but we have got the right approach and we must stick with that approach. I think these figures show we are on the right track and they are accompanied, of course, by the fact that we have created 1 million new jobs in the private sector over the last two years. So, we have got to stick with the program and recognize that these figures are positive.