Oil prices have fallen again today thanks in part to a deal this week between Libya's government and a separatist-minded militia that allowed a key oil terminal to reopen. But there is the potential for an even sloshier market—and lower prices—starting later this month with the largest US exports of crude and oil products in four decades.
Legally speaking, US oil exports have been banned—with small exceptions—since 1975 and the Arab oil embargoes. But, pushed by the surge of US oil production from the shale boom, those exceptions appear about to grow.
Last year, the US allowed the export of about 200,000 barrels a day to Canada—not a large volume. But now, Canada's Enbridge has obtained US permission to re-export Canadian crude oil to Europe through the US (via the Gulf of Mexico). That flow seems likely to begin this month. And when you add up exports of US crude to Canada, Mexico and the Far East, the US could be shipping 800,000 barrels a day—mostly to Europe and Asia—by the end of the year, predicts Citi's Ed Morse.
For the past year or so, geopolitical disruptions–wars and uprisings mostly–have counter-balanced rising supply and kept prices high. But now the supply seems to be taking control. "The re-exports are going to add a significant downward pressure to the global oil price," the Price Group's Phil Flynn told Quartz. "This is going to be a big deal and I am sure it is going to be a major topic on conversation in the markets in the very near future."
But that's not all. When you toss in US sales of oil products such as gasoline and diesel you reach some 4.5 million barrels a day of US crude oil and petroleum product exports by the end of 2014, Morse says (see chart below). These refined products don't directly affect the price of crude oil, but their rising exports demonstrate the growing role of US supply on the global market.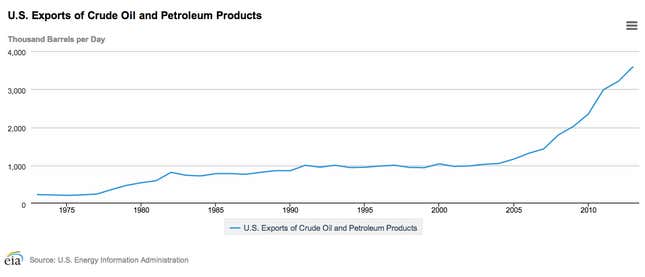 It's part of an all-but-unnoticed US supply surge that could start to shake up geopolitical power. The countries most vulnerable are those that rely on exports of high-priced oil, including Russia, Venezuela and some Persian Gulf nations. The oil price they require to balance their state budgets by and large exceeds $110 a barrel, putting them in a world of trouble should oil prices plunge below $100 a barrel—which is what analysts such as Morse predict they will do.