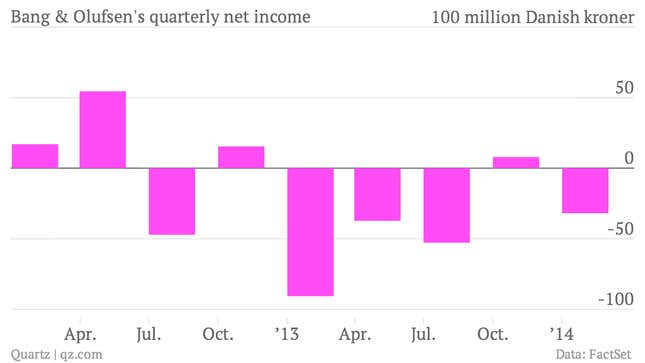 The numbers: Weak. The Danish maker of high-end, fashionably designed stereos and televisions hit a sour note in its latest fiscal quarter (pdf), covering the three months to February. Although it reported a narrower loss versus the same period last year, analysts expected a bigger improvement. A 3% rise in revenue also fell short of expectations.
The takeaway: The company's share price at one point fell 20% on the Copenhagen stock exchange. That was due partly to the lackluster earnings, but also to another announcement today (pdf) in which B&O said it was thinking about raising fresh capital to fund new investments, research, and restructuring. Investors feared that meant they'd be diluted, and dumped the shares in droves; they are down 12% at the time of writing.
What's interesting: In an attempt to grow, Bang & Olufsen launched a new line called B&O Play two years ago, with lower-priced products (a mere $200 for a set of earbuds, for example). But it was one of the weakest performers in the latest quarter, with sales sinking by 25%. One reason could be that they're mostly sold alongside top-of-the-line gear in company stores—temples to soft lighting, brushed metal, and Scandinavian cool—which does neither the top-end products nor the cheaper stuff any favors. So one reason the company wants to raise new capital is to establish more third-party sales channels for these products. In general, Bang & Olufsen has gotten less keen on its retail outlets, closing 140 of them over the past year in Europe. But when even the cheap stuff is $200 earbuds and $1,150 iPod speakers, competing directly alongside other brands in department stores or online may prove just as hard.