If you thought JPMorgan's earnings were rough, brace yourself for Citigroup's first-quarter results, which are due Monday.
Released today, JPMorgan's results (as well as Wells Fargo's) can offer a few clues to where Citigroup's performance may be weakest. Both JPMorgan and Wells reported that mortgage origination activity tumbled by nearly 70%, thanks to higher interest rates, which cut refinancing demand. Citi's mortgage originations have fallen in recent quarters, and that likely continued in the first quarter.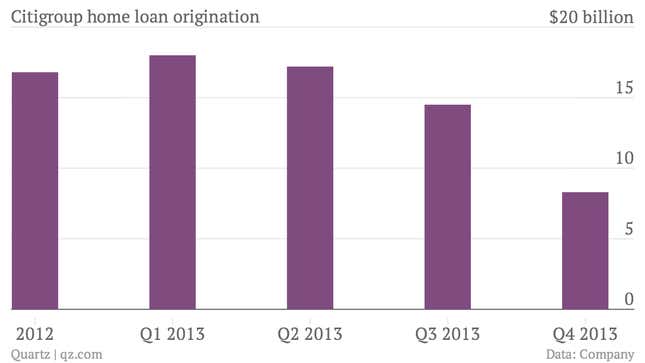 Citi also does a lot of securities trading, and that's likely to be an area of weakness when it reports its quarterly results. The bank has already warned that fixed-income trading would be weak, but that might not be enough to cushion the blow: JPMorgan also pre-warned on bond-trading softness, and yet its actual results came in even worse than expected today, suggesting that March was particularly rough. And again, Citi has already shown weakness in trading over the last few quarters.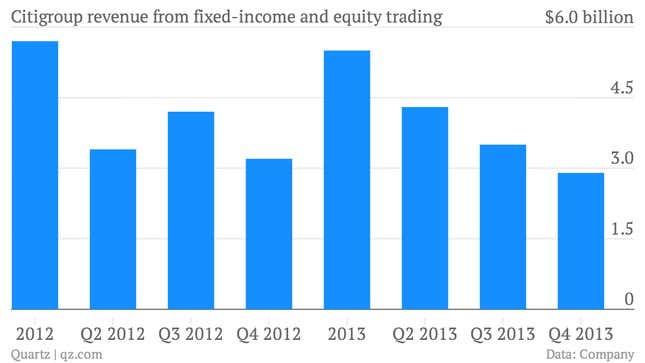 Meanwhile, Citigroup continues to wrangle with a host of other problems. The bank was forced to restate its 2013 earnings by $235 million after its Mexican unit, Banamex, was allegedly defrauded on loans to the Mexican oil company Oceanografia. And in a surprise move last month, the Federal Reserve rejected the bank's plans to pay dividends and repurchase shares. The Fed's reason for rejecting the shareholder payouts—questions surrounding the "overall reliability of Citigroup's capital planning process"—further undermined confidence in the bank's leadership.
In short, CEO Michael Corbat is probably in for a long, contentious post-report conference call.