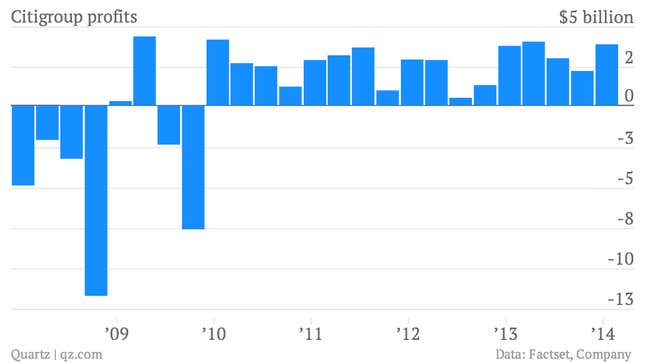 The numbers: Surprisingly good. Profits rose 4% to $3.94 billion compared to the same quarter of the previous year. (That's better than analysts expected.) On an adjusted basis, it was Citigroup's highest first-quarter profit since 2009. Revenues were down about 1% to $20.1 billion.
The takeaway:  Losses at Citi Holdings, the "bad bank" unit which houses the bank's soured assets, are shrinking quite a bit. That is helping the bottom line. Citi Holdings posted a $284 million loss in the first quarter compared to $804 million in the prior-year period. Citigroup also released a bit more of the reserves it sets aside to cover itself against loans potentially going bad. (Banks usually do that as consumer health improves and home prices rise.)
What's interesting: Both current CEO Michael Corbat and ousted CEO Vikram Pandit have had difficulty navigating the post-crisis regulatory environment. According to the Wall Street Journal [paywall], one of the catalysts behind the board's decision to oust Pandit in 2012 was his failure to anticipate that regulators would block a Citi plan to return capital to shareholders. Just last month, the Fed again rejected a Citi request to make shareholder payouts, amid questions surrounding the "overall reliability of Citigroup's capital planning process." The fact that Citi appeared to be left flat-footed by the announcement has prompted some to call for leadership changes at the bank. Meanwhile, Citi management also faces ongoing scrutiny after the bank was forced to restate its 2013 earnings by $235 million after its Mexican unit, Banamex, was allegedly defrauded on loans to the Mexican oil services company Oceanografia.