Over the past century, there has been a shift in the American population, away from rural areas and into the cities and suburbs.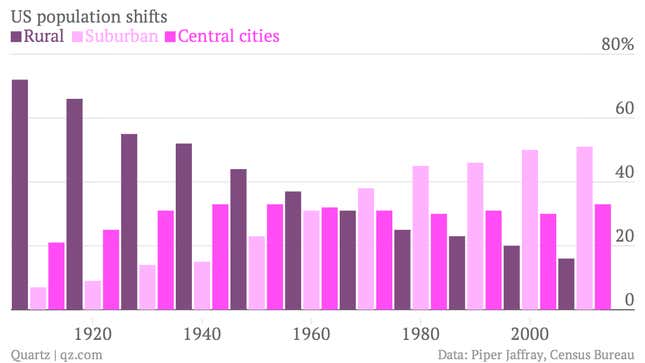 According to analysis of US census data by Piper Jaffray, people in rural areas accounted for just 16% of the population in 2010, down from 72% a century earlier, while the largest share of Americans (51%) called the suburbs home.
But at the moment, the really interesting action is going on in cities, where 33% of Americans were residing in 2010. Though this level has stayed roughly flat since 1940, data released since 2010 suggest the proportion of Americans living in the cities is now rising again.  A 2012 analysis of census data by Brookings Institute senior fellow William Frey found that for the first time since the 1920s, the city populations of 51 metropolitan areas outpaced growth in their surrounding suburbs between 2010 and 2011. And this trend continued between 2011 and 2012, he found.
It's early yet to tell whether this will translate into a notable rise in urban population by the time of the 2020 census. But there are various explanations for why it might. Cities have become more attractive places to live. Weakness in the economy could be prompting young families to delay a move to the suburbs. Regardless, the city renaissance could be having knock-on effects across the economy. And in retail, it might already be happening.
Two themes being talked about in retail lately are the death of the mall, and the decline of logo-centric fashion. Both malls and (to some extent) the obsession with logos emerged in the first place due to the rise of the suburbs. Suburban developments were in many cases built around shopping malls, and  the homogeneity of the suburbs created a mentality that  "resulted in group think and concentration of brand interest," Piper Jaffray argues. This environment helped logo-centric brands like Abercrombie and Fitch prosper.
Normcore aside, that is no longer the case: branded clothes have been displaced by so-called fast fashion, designs that are basically straight from the catwalk, more sophisticated—like cities, if you will, in contrast to the suburban aesthetic of the logos.
It's far too early to describe the suburbs as dying, but a shift back to the cities is happening, and it looks like its already having an impact, on shopping malls and teen clothing retailers at least.