American's filing their 2013 taxes (which must be submitted by midnight) may have noticed that the job got a little simpler this year.
While the US individual income tax form—known as the 1040—wasn't much different for the 2013 tax year than it had been for 2012, the 1040 instruction booklet slimmed down for the first time in nine years. Granted, it still wasn't light reading. But at 207 pages it was seven pages shorter than the previous year's book.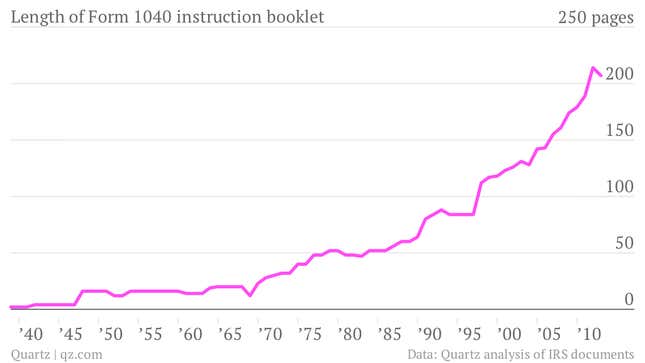 The 2012 to 2013 drop was the steepest since eight pages were dropped in 1969, and studious taxpayers no doubt appreciated the words they didn't have to read.
Part workbook and part reference, the instructions include tables and worksheets to guide taxpayers, as well as answers to common questions about filings and tips to avoid mistakes. Its length pretty closely tracks historical increases in the complexity of the US tax code. And this year's shrinkage seems to reflect the somewhat surprising drop in the time that US taxpayers are spending on their taxes.
According to the IRS, Americans will spend "just" 12 hours each preparing their taxes this year—less than half as long as the IRS estimated they would need to file in 2006. Those time savings are the results of needing to spend less time than in the past on record keeping and tax planning, according to the agency. The time needed to complete and submit the US tax form itself has increased 12 minutes since 2006.