Yes, the Nasdaq is approaching correction territory. (That's traditionally a 10% decline from a recent peak, which for the Nasdaq Composite, was March 5.)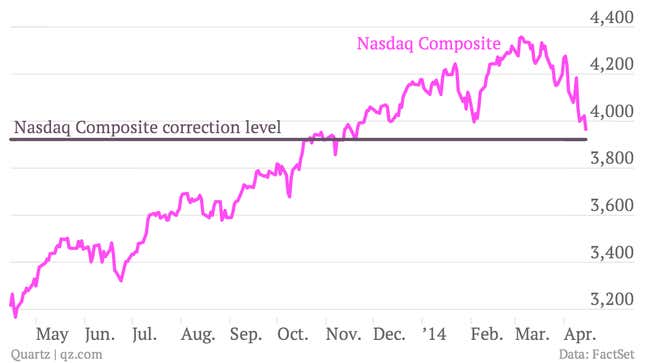 And yes, there's been some real carnage among some of the frothiest stocks. Here's a look at where a set of Nasdaq's finest have landed as of today, since the index peaked.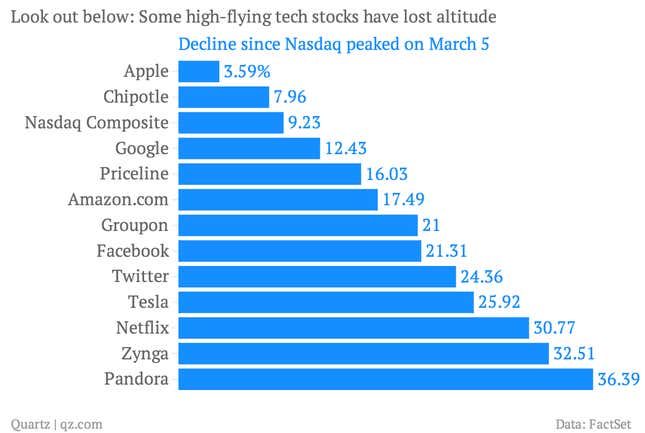 But let's put things in a bit of perspective. So far, the Nasdaq is still only down about 5% in 2014. That's not exactly a collapse. And the Nasdaq also remains ahead of both the S&P 500 and the Russell 2000 over the last 12 months. The tech-heavy index is up more than 23% over the last 12 months. (The S&P is up more than 17% and the Russell 2000 small-cap index is up 21%.)
In other words, this is not really a big deal for the markets. Of course, some people might have been buying Netflix in late February, when it was valued at 360 times what it earned over the last 12 months. (A fully valued stock is usually somewhere in the neighborhood of 15 times earnings.)
Netflix is down more than 30% since the peak. But it's tough to feel bad for somebody getting hammered on that. After all, buying a share with a valuation like Netflix is really just a form of gambling. And when you gamble, you sometimes lose.