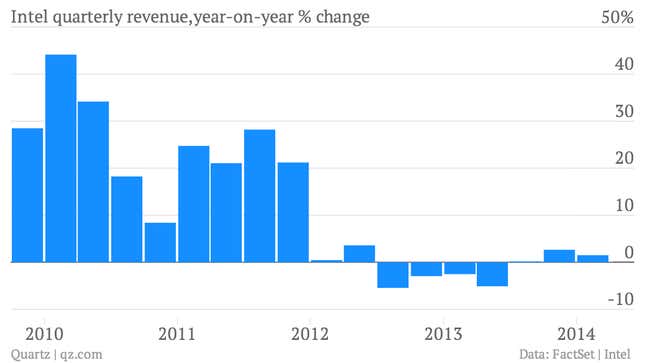 The numbers: Not terrible. First-quarter revenue rose 1.5% to $12.76 billion versus the same quarter of 2013. Profit fell 4.8% to $1.95 billion. Gross margins rose 3.5 percentage points from the prior year. Intel raised its gross margin guidance. Shares initially rose after hours.
The takeaway: Like the old man in that famous bit of Monty Python's Holy Grail, the PC market isn't dead yet. The decline of operating income at Intel's PC Client Group, has slowed quite a bit. Revenue at the unit was down just 1.4% over the prior year. In short, the PC market is stabilizing. It shouldn't come as a surprise. (After all, people still listen to good, old-fashioned radio don't they?)
What's interesting: Still, Intel continues to struggle in mobile. Its Mobile and Communications Group posted an operating loss of $929 million in the quarter, worse than the $703 million it lost a year earlier. "We continue to view Intel's mobile push as a battle it cannot win," wrote JP Morgan stock market analysts in a recent note. So where is growth going to come from? Big Data. The company is betting that it can make a killing by selling the high-end processors needed to crunch ever-larger amounts of data. Intel's Data Center Group did have a decent quarter, reporting that revenue was up 11.2% in the first quarter from a year earlier. Operating income at the unit was up 15.8%.