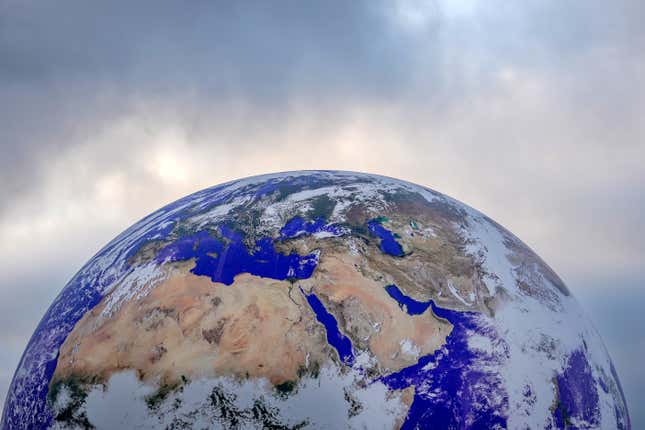 While countries around the world push for renewable energy in a new electric age, some of the same countries are also planning the largest oil and gas projects. Just 20 countries are responsible for nearly 90% of new oil and gas extraction projects between 2023 and 2050, according a new report (pdf) by Oil Change International.
Why a tightening of credit conditions could lead to a weak economy
The analysis estimates that the projects by those countries, which the report calls "planet wreckers," would culminate in 172.6 gigatons of CO2 pollution by 2050. That is equivalent to the lifetime of about 1,082 coal plants.
Researchers warn that if oil and gas is allowed to expand at this scale, holding global temperature rise to 1.5°C would be impossible.

The top oil and gas expanders are some of the same countries leading renewable energy efforts. The United States, dubbed "Planet Wrecker In Chief" has more oil and gas projects planned through 2050 than any other country, amounting to an estimated 72.5 gigatons of CO2.

The Global North's "climate hypocrites"
Along with the US, four other Global North countries with the greatest economic means to rapidly phase out production—referred to in the report as "climate hypocrites"—are responsible for 51% of oil and gas expansion by 2050. Canada trails the US and is followed by Australia, Norway, and the UK. The countries' emissions from new projects are estimated to be 18.6, 4, 3, and 1.8 gigatons of CO2 respectively.
"It's simple: when you are in a hole, the first step is to stop digging. The climate crisis is global in nature—but is atrociously unjust," said co-author Romain Ioualalen in a press release. "A handful of the world's richest nations' are risking our future by willingly ignoring the calls to rapidly phase out fossil fuels."
Without any new oil and gas fields or licenses, researchers estimate global oil and gas production would decline by 2% per year to 2030 and by 5% per year from 2030 to 2050. But stopping new oil and gas would not be enough, according to the authors. Limiting global warming to 1.5°C would require governments to go further by closing down already producing fields.