This morning Canadian pharmaceutical company Valeant announced it is attempting to buy Botox-maker Allergan. Activist investor Bill Ackman's hedge fund Pershing Square Capital Management is supporting the deal by buying 9.6% of Allergan. (Here's a good explainer of the very unusual partnership between a hostile corporate acquirer and an activist.)
Today, Ackman revealed his rationale for supporting the deal and getting involved with Valeant in a presentation which draws heavily from The Outsiders, a 2012 business book by William N. Thorndike. (Not to be confused with the coming-of-age novel with the same title by S.E. Hinton.)
The book is a favorite of activist investors (paywall) and was recommended by Warren Buffett in his 2012 shareholder letter. (pdf)
It profiles eight CEOs whose companies massively outperformed the market (including Buffett) and who all exhibit similar behaviors, which Ackman listed in a slide in his presentation: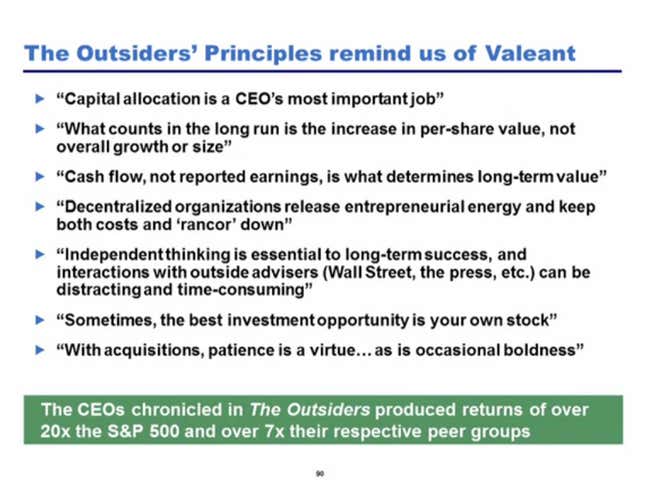 Ackman calls it "one of the most important investment books I've ever read," and says that the book perfectly fits the way Valeant CEO Mike Pearson has run the company. "The only problem with the book is that Mike's missing," Ackman said.
He used it to illustrate why he's making the biggest investment in his firm's history (at around $4 billion, making up 30% of his firm's capital) and why he thinks putting Allergan under Valeant's control would create so much value.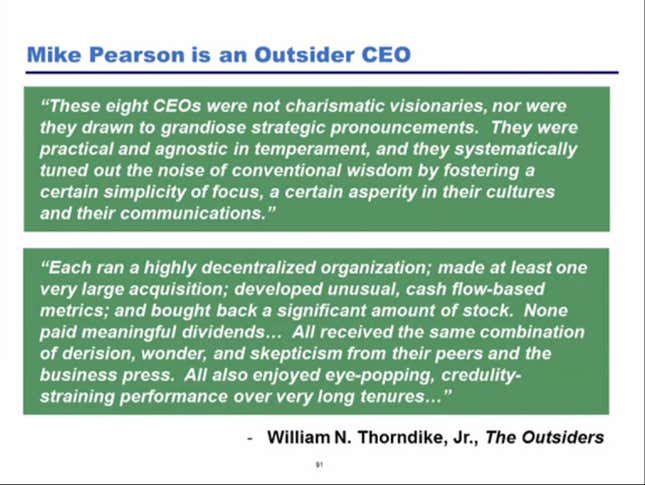 Here are some quotes he cited that remind him of Valeant's CEO: 
Ackman met Pearson through a business school classmate and now-colleague at Pershing Square who had worked with the CEO at McKinsey. Ackman says a lot of his motivation is to become a large shareholder in Valeant through the deal rather than making a quick turnaround.
There was more detail in the presentation on the structure of the investment and both businesses (along with more Outsiders quotes.) But Ackman cites Valeant as a model of how to allocate capital, benefit from acquisitions, operate with extremely low costs, and use decentralized management to outperform. He said his favorite quote from the book is that "It is impossible produce superior performance without doing something different."