If you're American seafood-eater, the odds are very high that you've sampled what's essentially black-market fish. Some 20-32% of wild-caught seafood imports to the US made it without adhering to fishery management laws, according to a new study, based on 2011 data. Alarming given that more than nine-tenths of seafood consumed in the US is imported.
The problem is that when no one's counting these fish, regulators can't keep track of how fast we're wiping that species out. Of course, the US isn't the only country eating billions in seafood that comes from "illegal, unreported and unregulated" (IUU) fishing, to use the technical term. But it does its part; as much as 16% of of the $16.5 billion in this contraband fish consumed each year in the world is eaten in America, says the report.
Take tuna, for example. Since the US's top suppliers also tend to be the countries that catch illegally, as much as 27% of the US's imported tuna is contraband, based on calculations from the report's data. Here are the researchers' estimates of the illegally-caught percentages of US imports from some of the worst-offending countries: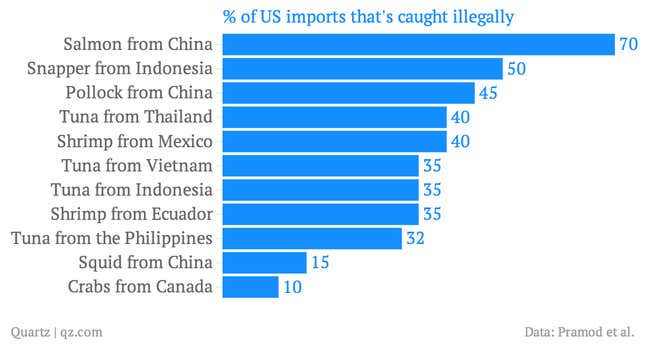 As it happens, these are all America's most beloved seafoods. In fact, four of the top five most-consumed seafoods in the US are also among the species that are frequently illegally fished.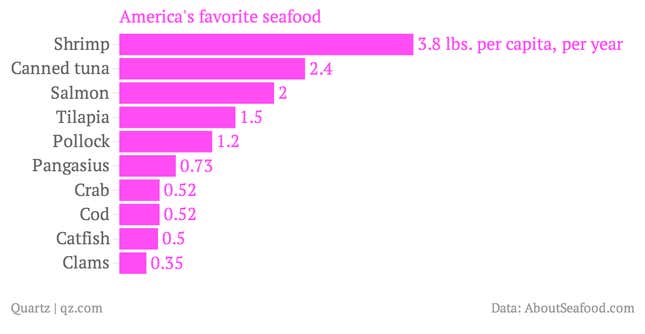 That's probably no coincidence.
Overfishing of the most popular species has made those fish and crustaceans scarcer, requiring fishermen to travel farther and trawl deeper than ever before—costing them more and more on labor and fuel. This chart, which shows the effort for Thai fishermen to catch a kilo of fish, is an example: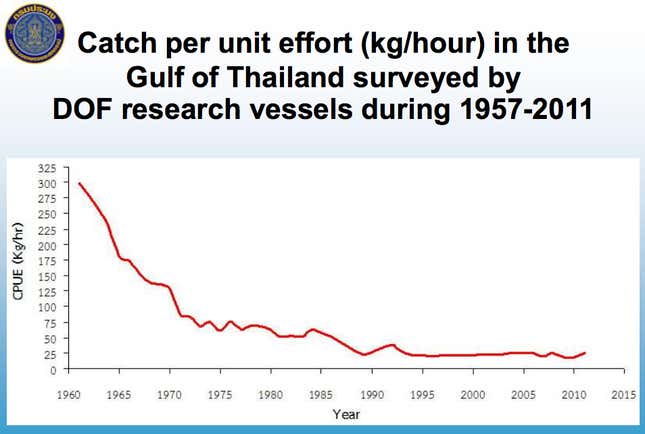 But scarcity makes popular fish all the more valuable in top markets like the US. The easiest way to boost profits, therefore, is to ignore laws designed to protect populations from overfishing and catch the priciest fish.
That gets us to the second reason for the high rates of illegal fishing: It's easy to avoid getting caught. Right now, fishermen can sell their illegal catches to huge refrigerated vessels known as "reefers," which essentially are floating fish-laundering outfits. From there, reefers can sell into an elaborate supply chain that makes it hard to trace the product's origin by the time the US imports it.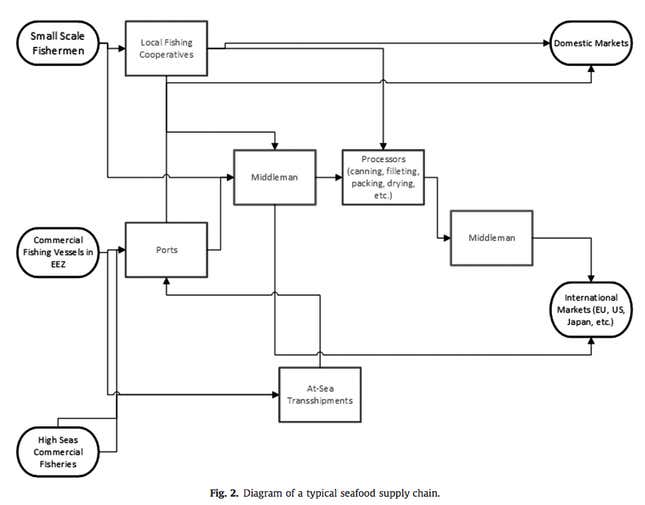 Fishermen should still be reporting those catches. But enforcement is flimsy in many countries, including China, Thailand, Vietnam, the Philippines, Ecuador and Mexico—which happen to be the top sellers of the US's illegal seafood imports. Chinese fishermen, for example, dramatically understate what they've caught.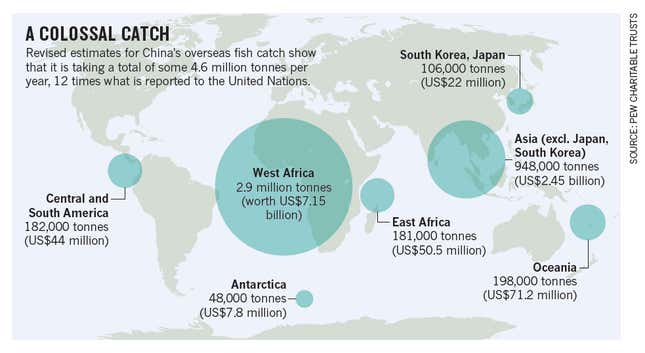 But America has a responsibility—to its fishermen, to its consumers, to the planet—to make sure it's preventing IUU fish from coming in. In this it's lagged well behind the European Union, which has been far more vigilant.
Fortunately, the US Senate last month stepped up its protection measures by approving four treaties designed to crack down on illegal fish imports. As Yale Environment 360 points out, the most important is a measure that will see authorities ban foreign vessels suspected of IUU fishing from US ports. However, since that treaty requires approval from 14 other countries before it enters into force, it may be years before those measures take effect.