Chinese stocks have had an awful year. It makes sense. The country is basically taking important steps to reconfigure its economy away from the production-driven boom that has driven economic growth for decades, and manufacturing is slowing. Today's HSBC Markit China manufacturing PMI showed the country's manufacturing sector was still contracting in April. (The measure has been below the 50, which separates contraction from expansion, since January.)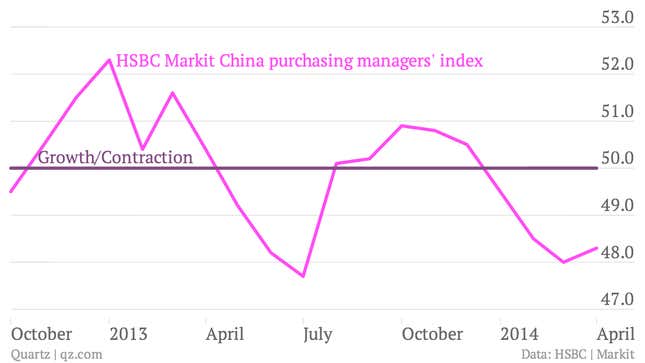 As you can see, this isn't the first time that China's manufacturing economy has shown signs of contraction. And it's entirely possible that the Chinese powers-that-be will attempt to battle the slowdown with another mighty dose of stimulus spending. In the recent past, that's what Chinese markets have assumed would happen in response to other bits of bad economic news.
Not so today. Chinese markets slumped again, falling for their fourth time in five days. Those type of runs have put Chinese equities in some pretty poor company this year.