Amazon has pulled off a significant coup in the TV streaming wars, announcing this morning that it had struck a deal to stream older HBO shows on its Prime Instant Video platform. The immediate reaction in markets has been in shares of Netflix, which have sunk by about 3.5% in the early going.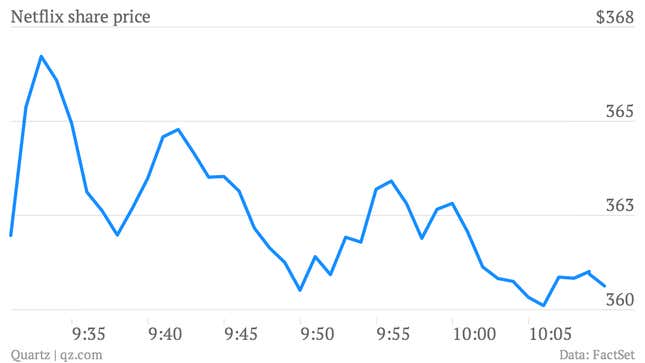 Subscribers to Amazon's Prime Instant Video service will have unlimited access to all seasons of older HBO hits like The Wire and The Sopranos, while older seasons for newer shows like Girls and The Newsroom will be made available about three years after they've originally aired on HBO.
There's no mention of  Game of Thrones in the press release, and for access to the premium network's latest content you'll still need an HBO subscription (which you can pretty much only get through a full cable subscription). But the deal is still significant because it represents the first time HBO has allowed its shows to be made available on an online streaming platform (besides its own HBO Go service).
This week, during an earnings call, Netflix CEO Reed Hastings dismissed the idea that Amazon, which offers access to its streaming video platform as part of $99 annual subscriptions to its premium delivery service, is a competitor.
[Amazon] Prime's a great service, I'm a Prime member and most Netflix employees are Prime members, and it's coming across to most people in our society is this very complementary to Netflix. People look at them as multiple channels.You saw that Amazon included us on the FireTV and,of course,we've been before on the Kindle Fires. It's a great relationship all around where we've got unique content.They've got some unique content. They're also doing originals. And there's multiple networks out there, it's very much not a zero -sum game. And we're building this ecosystem together that's about Internet video and the more players they are in Internet video,the bigger that ecosystem gets.
Yet Netflix also is keen to paint HBO as a competitor, even though there is plenty of evidence that those services are complimentary as well.
The Netflix growth story is quickly shifting from the US to international markets. But it's going to be interesting to see how Netflix's US subscriber base holds up in the face of pressure from Amazon, whose nascent television offering looks pretty compelling. It has been estimated that there are 25 million prime subscribers in the US, which only costs $3 more per year than Netflix does (before its looming price hike.)
It's not clear how many of those subscribers actually realize they have access to Prime Instant Video. Amazon's move to offer HBO content could change that.