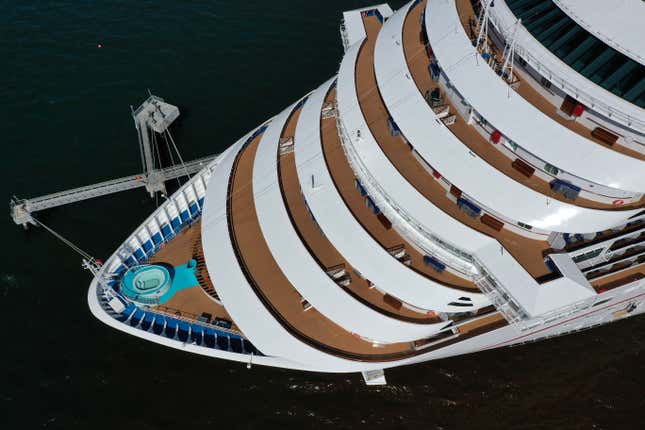 Holland America's Nieuw Amsterdam, a cruise ship that, according to the company's site, "celebrates historic New York City with an inspired design and art collection," is currently traveling along the western coast of Canada for a 14-day tour to Alaska and back.
Ben Emons Part 2: The Fed, Apple shares
For tickets starting at $2,699 per-person, double occupancy rate, 1,970 passengers get to enjoy a spa treatments, fine meals, and pickleball at sea. For 160 of them, and 26 members of its 813-person staff, the journey also featured a gastrointestinal illness.
They aren't alone. The Nieuw Amsterdam outbreak is the 11th to occur this year. It's a sign—if not the most desirable one—that things are back to pre-covid levels: This is the highest number of outbreaks recorded on ships since 2018, and even then it took the whole year to get to 11.
Norovirus and more
As part of its Vessel Sanitation Program (VSP), the Centers for Disease Control and Prevention (CDC) tracks occurrences of gastrointestinal disease on board, which cruises are required to report. The cases are reported before arriving to the US from a foreign port, or whenever 3% or more of cruise passengers or crew are ill.

So far this year, 1,503 people—1,321 passengers, and 182 crew members—have come down with gastrointestinal illnesses on cruises that had the US as part of their itinerary. Most of the infections are still of unknown origin, while in three cases the outbreaks were identified as norovirus, which is a relatively common cause of gastrointestinal disease on cruises. Norovirus survives on surfaces, and it can spread easily on ships where rooms are close, buffets proliferate, and people share confined spaces.
Though it was one of the largest of the year, the outbreak on the Nieuw Amsterdam was mild, and all sick individuals were quarantined. Only on the Princess Cruises's Ruby Princess, which had a norovirus outbreak during its mid-February trip, were there were more cases, with 234 passengers and 34 members of the crew becoming ill. Data on outbreaks on cruises is available starting from 1994, and the rate of incidence has diminished significantly since it reached a peak in the early 2000s, when outbreaks regularly surpassed 20 per year.
The number of outbreaks might also be a sign that ridership on cruise ships is returning to pre-pandemic levels. In 2019, nearly 15 million people took cruises in the US, while that number was down to only 2 million in 2021, and about 5 million in 2022.
Illness on cruises isn't as common as it is on land
Gastrointestinal disease of this type isn't usually serious serious—though it's hardly fun, especially at sea. But it's hardly exclusive to cruises: The vast majority of outbreaks happen on land, and every year there are around 2,500 outbreaks of norovirus recorded in the US, causing up to 21 million cases.

As the CDC notes, millions of people travel on cruises every year, making less than a dozen outbreaks a relatively minor concern. "Health officials track illness on cruise ships. So outbreaks are found and reported more quickly on a cruise ship than on land," says the CDC.
Still, it's helpful to follow basic health precautions to limit the chance of getting sick, including reporting any illness that occurs prior to joining a voyage, or while on board, frequent and washing hands, and leaving the area if someone is sick.