So much for belt-tightening at Barclays. After the bank told investors two years ago that it would keep excessive pay in check, its chairman, David Walker, appeared before angry shareholders at the bank's annual meeting to explain why it went back on its word.
"We saw significantly higher numbers of high quality people we wanted to recruit turning down our offers," he said at the UK bank's annual shareholder meeting in London today, reports Bloomberg. "We were losing people who were crucial to the future of the investment bank in an extremely competitive environment," he continued. Walker echoed similar statements by Antony Jenkins, Barclays' CEO, last month, who said that a decision to increase bonuses by 10% despite falling profits was an effort to "protect the franchise."
All this has raised the hackles of Barclays shareholders. Profit was down 17% year-on-year in the fourth quarter of 2013, and the bank today warned it would report another small drop for the first quarter of this year.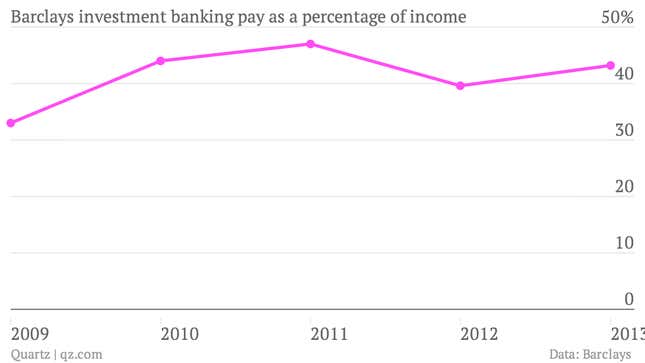 In its 2012 annual shareholder report (pdf) the bank said it would bring pay as a share of net income down to the mid-30% range, but in the 2013 report, it said would need an increase "in order to build our franchise in the long term interests of shareholders." Here's how that played out: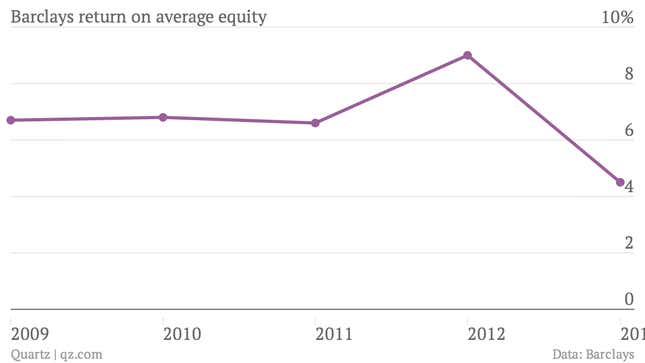 Shareholders have other reasons to be perturbed: The firm has seen its return on average equity fall by 50% in the past year: