At 8 o' clock in the morning, Pappu chaiwalla's tiny tea-shop near Assighat in Varanasi is reverberating with heated debate. About twenty people sitting cheek by jowl on narrow benches are arguing loudly about the elections. Someone points to a man dressed in a rust-coloured kurta sitting quietly in a corner and says, "you look like that Aam Aadmi party fellow Manish Sisodia.'' The man smiles and admits that he is a national executive member of the Aam Aaadmi Party (AAP), but not Sisodia.
There is a momentary silence as everyone stares at him. Then all hell breaks loose. It appears like the crowd was waiting for a lamb to slaughter.
The man, Sahajanand Rai, valiantly tries to defend his party and its charismatic leader Arvind Kejriwal, but is shouted down by the crowd which is overwhelmingly pro-Narendra Modi, the Bharatiya Janata Party's (BJP) star leader and prime ministerial candidate. They call Kejriwal bhagoda, or renegade, for resigning as Delhi chief minister.
Devvrat Chaubey, who teaches philosophy at the nearby Benaras Hindu University, or BHU, and Deenbandhu Tiwari, a sociology professor at the Lal Bahadur Shastri post-graduate college at Mughalsarai are among the crowd in the tea-shop. "If Kejriwal had not quit running the (Delhi) government, he would have given Modi a tough challenge here,'' says Chaubey. "Now he will only succeed in splitting the votes making it easier for Modi.''
Pappu's tea-shop may not be the ideal poll weathervane, but it certainly gives a sense of what has caught the public's imagination in Varanasi.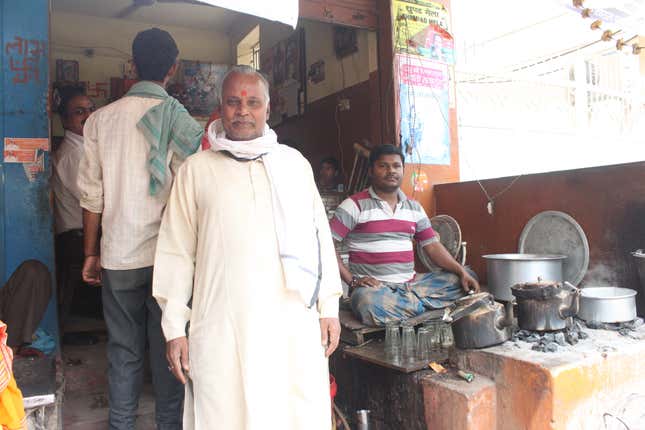 "My grandfather started this shop about 75 years ago," says Pappu whose real name is Vishwanath Singh. "It has always been a hangout for common folk as well as intellectuals, especially from BHU." The tea-shop was one of Narendra Modi's chai pe charcha or "chat over tea" meetings on February 12.
While Narendra Modi has turned his tea-seller past into a powerful electioneering tool symbolizing his vision for an India where it's possible to dream big, his campaign is anything but symbols and slogans. Beneath the surface storm of massive rallies and fiery speeches, an army of workers are silently chipping away at traditional vote banks, breaking down long-standing loyalties to kin and community and distributing a dream of economic development and material prosperity to young voters whose sizable numbers are crucial in these elections.
High tech and low tech
At the BJP's central office at Gulab Bagh in Varanasi, six young boys barely out of their teens are waiting for Shailesh Pandey and Manish Dubey, two of the party's organizers. The young men have come to join the Modi bandwagon, which many believe is on an unstoppable roll across the country.
Dubey, an engineer who quit his job with French multinational Alstom to work for the BJP, meticulously notes down their details—name, phone number, how many hours they could give for the campaign—and assigns them work.
Pandey and Dubey, in their mid-thirties, coordinate the campaign's information technology cell and are responsible for recruiting workers using the unlikely tool of a missed phone call. Anyone who wants to sign up with the campaign can use the "missed call service," by calling 78200 and hanging up (so their call is free, but there's a record of their number on a cell phone) and someone from the campaign will get in touch.
The callers are drafted to cold call other potential voters or go door to door canvassing for Modi. Those who are good with social media are posted on the web. Every day the team adds up to 80 new contacts. Pandey, a former sailor with the Indian Navy who has roamed the country on his motorcycle, says they fielded about 3,000 calls in three days.
Every afternoon, the team sets out for local meetings, collecting information on voters, figuring out their past affiliations, assessing rivals' strength and problems of the area. They have been doing this since September, an indication that it may have been decided long ago Varanasi was going to be Modi's constituency outside Gujarat, even though it was officially announced in March.
Pandey and Dubey have traveled to every village in the 14 districts of eastern Uttar Pradesh in the past seven months, collecting data and getting a sense of the area. (Pandey has documented much of their travels on his Twitter feed). They carry with them pen drives with 20 gigabytes of video clips of Narendra Modi's speeches and the development projects in Gujarat. They also carry a compact projector, white sheets to use as screens and batteries in the car to set up impromptu video shows.
Meanwhile, another official has prepared a list of panna pramukhs, or "page chiefs," independent BJP workers who will each be given a sheet of paper with names of about 60 voters, and will be responsible for making sure they vote.
Unsolicited volunteers
Meanwhile, an enthusiastic husband and wife duo are traveling the chaotic city, meeting intellectuals and prominent citizens, to discuss the Modi model of governance. The couple, one of them a retired vice-chancellor of a university in Gujarat and the other a lawyer, did not want to be identified. The two are camping in Varanasi on their own and working, as they said "without disturbing the party system."
"Ab yagya hai to ahuti deni hi padegi," or "Since its a yagya (a ritualistic Hindu offering), sacrifices will have to be made," said the lawyer, who notes down the name and telephone number of every person they meet in her diary. "If we manage to get our message across well, we will change Uttar Pradesh's polity,'' her husband added.
They have with them Shyam Jaiswal, leader of Uttar Pradesh Jaiswal Mahasabha, a community group made up of the trader caste, or Baniyas.
Jaiswal says his community is solidly standing behind Modi. He shows a letter, printed on the organizations official letterhead, asking members to vote for Modi. "This letter has gone to every Jaiswal home in UP,'' he says. The lawyer says they met Jaiswal only the previous day and now he is helping them connect with more people who can influence flocks of voters.
Jaiswal is taking the couple to meet Ramesh Kumar Gupta, a millionaire businessman who owns Kashivishwanath Zarda Company, an incense stick manufacturer. Sitting in his large office, the former vice chancellor tells him how professional Modi is. "In all my years as VC, I have never got a call from him or any minister. The government never interfered in my work,'' he says. He tells him that as an opinion maker in Varanasi, he should help Modi's campaign. But Gupta already seems to be a disciple.
"Varanasi's development started the day Modi's name was announced as a candidate from here,'' he says as everyone looks puzzled. "Have you noticed how weather reports on TV have started giving Varanasi temperature reading?''
Friction between old and new
There is, however, a minor rebellion brewing in one corner of the constituency. Some old-timers of the BJP are unhappy with the way the outsiders are taking over the campaign.
Local leaders believe they are not being consulted enough, especially on appointments to positions. In the constituency of Sevapuri, BJP workers are upset. One senior leader from the area says all the local officials of a nearby village have left the party.
Modi's chief strategist Amit Shah is in charge of sorting out the growing mess. At a meeting to discuss the issue on Mar. 21, BJP leaders told him that the competition AAP has about 7,000 workers on the ground, but BJP officials are sitting in their offices without any instructions. Meanwhile, outsider supporters of Modi—BJP and RSS workers from Delhi and Gujarat—are doing their own thing without involving locals.
Shah told them to ignore the AAP party and its candidate Kejriwal. "Don't waste time throwing stones and heckling him. He is insignificant," he said, according to BJP leader who attended the meeting. The local chief of the Rashtriya Swayamsevak Sangh, or RSS, the right-wing Hindu group, was tasked with fixing the problem.
Anticipating victory
Rebellions from within the party are sprouting up all over the state, a campaign manager in the central office says, but are of no significance. Even one of the complaining local BJP officials admits "we might have differences but that does not mean we will not work. It is not a question of whether Modi will win. We want to make sure it is a historic victory."