Living next door to the capital of China has its drawbacks. Hebei, a poor industrial province in the north that wraps around the municipality of Beijing, has given up water, labor, and other resources for the capital over the years. Now, in part because of the central government's mission to clean up air pollution, some of its economic growth is taking a hit as well.
Hebei is home to about a quarter of the country's steel production. Fumes from its iron and cement industries, as well as hundreds of small boilers, create the smog that floats over to Beijing, and has become an infamous symbol of China's environmental problems. As China's "war on pollution" has ramped up, industrial output in Hebei has been cut, and that has taken an economic toll. For the first quarter of the year, GDP in Hebei rose a measly 4.2%, compared to the national average of 7.4%.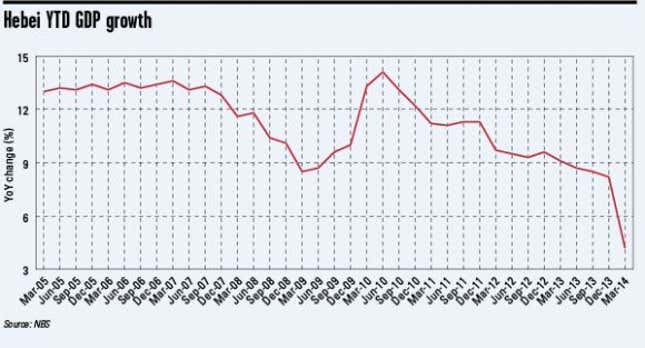 Observers have worried about the impact of pollution-curbing measures on steel production in Hebei. Steel production in Hebei fell 4.6% in the first quarter when output in the country overall was up 4.9%. Last month, in an analyst note, JP Morgan said Chinese authorities' focus on pollution curbs was major factor contributing to a recent iron ore slowdown late last year: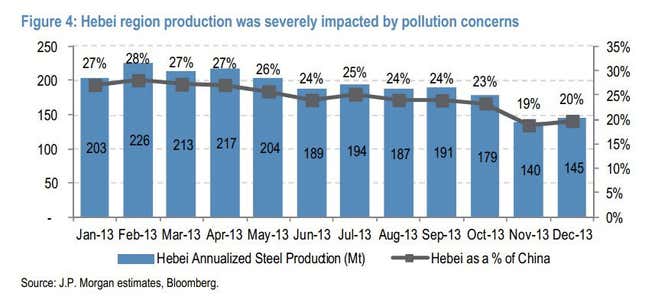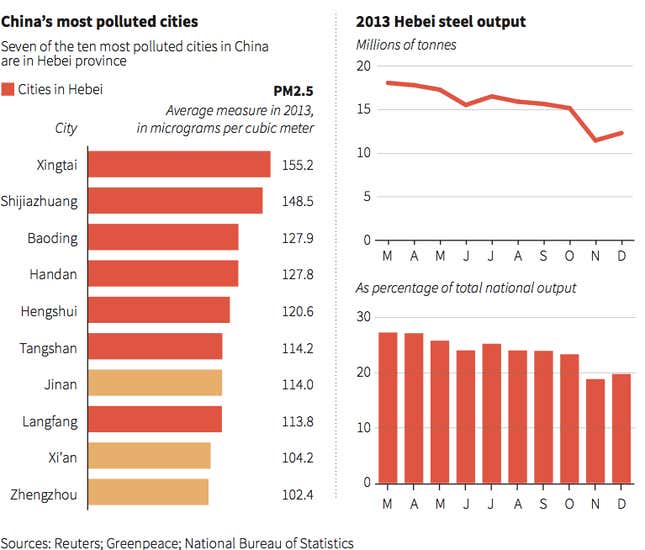 While Hebei's economy may already be feeling the effects of Beijing's campaign, pollution in the province hasn't abated yet. Based on 2013 data, Hebei ranked seven out of the 10 cities with the highest levels of particulate matter (PM2.5) in the air. Moreover, this isn't entirely a sign that Chinese officials are finally prioritizing the environment over economic development. Steel production is moving elsewhere: output in Jiangsu province, for instance, was up 11%.